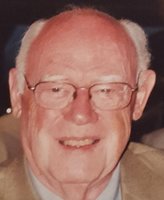 James C. Laird
James Carlton Laird, Jr., 85, passed away peacefully at his Yardley home on November 9, 2017. He is survived by his wife of 60 years, Cynthia Rork Laird; his five children, Susan, James, David, Stephen, and Kathryn (Santa Croce); his two daughters-in-law, Lisa and Michelle; his nine grandchildren, Austin, Kathryn, Garrett, Emily, Megan, Ainslee, Jay, Kaitlin, and Caroline, and their spouses; his first great-grandson due in February; his brother Vernon; and his nieces Pamela, Susan, Diane, and Ann.
Born and raised in Freehold, New Jersey, Jim graduated from Freehold High School in 1949. He enlisted in the US Army and regaled his family with many stories of his time stationed on the Army base in Japan. After an honorable discharge, Jim attended Rider University where he majored in Accounting and met his wife Cynthia. Jim was a Certified Public Accountant, and for nearly 20 years after his "official" retirement, his clients still came to the house to have him do their tax returns each year.
Jim was a 50-year member of Morrisville Presbyterian Church where he was a trustee, treasurer, choir member, and Youth Club music coordinator. He was a lifelong learner, an avid reader, and he could fix anything from a leaky faucet to an antique clock to a carburetor. He and Cynthia were world travelers and were proud to have visited all 50 states. Jim loved camping, boating, gardening, playing bridge, old movies, big band music, a good steak, and apple pie.
A military ceremony will be conducted at Washington Crossing National Cemetery on Friday, November 17, at 10:00 AM (please plan to arrive no later than 9:45). A reception will follow at the Morrisville Presbyterian Church, with a memorial service beginning at noon and a luncheon immediately to follow. In lieu of flowers, donations may be made in Jim's name to Meals on Wheels America, or to the Morrisville Presbyterian Church.