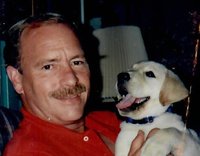 Walter L. Cadwallader
Walter Leedom Cadwallader, Jr. passed away on Wednesday, November 8, 2017 at St. Mary Medical Center, Langhorne, PA due to complications of congestive heart failure, his wife Annie was by his side. He was 70 years old.
Born in Trenton, NJ on February 21, 1947, Walt was a life time resident of Yardley, PA. Walt was a graduate of Pennsbury High School, Class of 1965 and also attended Bucks County Community College.
Walt's love for dogs started when he was a young child, his first dogs being German Shepherds. Throughout the years he always had a dog, his heart was complete when he found his first Labrador Retriever, then as the years went on he always had another lab, usually two at a time, some strays, most rescue dogs, all Labrador retrievers. His labs were his life, they made his days complete and he loved them with all of his heart.
Growing up, after school, weekends and summers, if Walt was not working for his father, he would be working as a salesman at Donnelly's, Byers and the Croydon Shoppe. Walt served in the U.S. Marine Corp Reserves from 1966 to 1972 and was honorably discharged at the rank of Sergeant. Walt resided in Los Angles for 2 years working in sales for the men's fashion industry and the steel industry. Walt returned to Yardley, PA and later worked in New York City in sales in the men's clothing industry for Malcolm Kenneth Topcoats until he began working in the union contracting industry and eventually became self-employed as President of W.L. Cadwallader, Jr. Contractor, Inc., a concrete and asphalt contracting company, for over 20 years until his retirement.
Walt enjoyed spending afternoons at the Yardley-Lower Makefield VFW Post 6393 with the camaraderie of his friends.
Walt was a member of the Knowles-Doyle American Legion Post 317, Yardley, PA and the Fairless Hills Elks Lodge 2023, Morrisville, PA
Son of the late Walter Leedom Cadwallader, Sr. and Neva (Westergard) Cadwallader, Walt is survived by his loving wife Anne Marie ("Annie") (nee Tallett); sisters, Nancy Cadwallader, Suzanne Cadwallader, and Medora "Dorie" Martucci, his brother Chris Cadwallader and his wife Debbi; brother-in-law, Thomas Tallett and his wife Betty Jane. Walt is also survived by his nieces and nephews, Dustin Horner and his wife Mandy, Courtney Martucci, Michael Martucci, Kasen Martucci, Lindy Cadwallader, Kelly Cadwallader, Tom Tallett and his wife Tatiane Karl da Fonseca and Dennis Fleming. Great nieces and nephew, Harper Elizabeth Rozniakowski, Oliver Horner, Stephanie Karl da Fonseca Tallett and Daphne and Jenny Fleming.
Walt will be greatly missed by his last two lab rescues, Buddy and Sophie.
Respecting Walt's wishes, there will be no services. Walt's ashes will be interred at Upper Makefield's Friends Cemetery, Newtown, PA at the convenience of the family.
Donations in Walt's memory may be made to Rescue Dogs Rock Animal Rescue, 707 Rachel Drive, Franklinville, NJ 08322