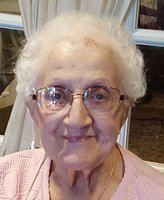 Ruth Schmid
Age 95, of Ridgewood, Queens and Whiting NJ passed away on 11/27/2017. She was a resident at Sunrise Assisted Living in Yardley, PA since November of 2013.
Ruth Schmid was born and raised in Ridgewood, New York. Ruth attended Catholic School and graduated from Newtown High School in Queens, NY. In 1942 Ruth married Eugene Schmid. They were married for 64 years. Eugene was a watchmaker. After returning from the war, Eugene and Ruth opened a store on Fresh Pond Road in Ridgewood, Queens where they sold jewelry and fixed watches and clocks. After 38 years in business, Eugene and Ruth moved to Whiting, NJ, in 1994. Ruth and Eugene laughed a lot and they loved spending time together. Eugene passed away in April of 2006.
Ruth is survived by her son, Ron Schmid of Yardley, PA and his wife Linda. Ruth loved her family dearly. Ruth has two grandchildren, Jay Schmid who lives in Centerville, Virginia with his wife Carolyn Schmid and Gena Loyd who lives in Pittsburgh, PA with her husband, Russ Loyd. Ruth also has 5 great grandchildren; Hailey Schmid, Rylee Schmid, Metta Loyd, Rainer Loyd, and Rivers Loyd.
Ruth will be laid to rest with Eugene at the Brigadier General William C. Doyle Veterans' Memorial Cemetery in New Egypt, NJ.