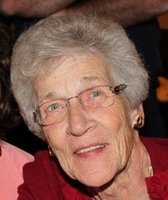 Sally Anne Giordano
Sally Anne Giordano of Lower Makefield Township, PA passed away peacefully surrounded by her loving family on Saturday December 2, 2017 at the home of her daughter and son-in-law in Yardley, PA.
Born in Trenton, NJ, daughter of the late Leslie A. Yaeger and Sally Barlow Yaeger, she resided in Lower Makefield for the past 60 years.
Sally was a Registered Nurse and a graduate of St. Francis School of Nursing. Her professional career began at St. Francis Medical Center in Trenton, NJ, as an Operating Room nurse eventually migrating to managing the Holding Room as Director.
From early in Sally's life she developed the persona of a "Care Taker". Learning from her lifelong friend and mentor, Mary Toth (Mamie), she always knew she wanted to become a nurse and help others. Throughout her life she used her excellence as a "Care Taker" to overcome the challenges that were presented by combining a strong mind with the gentle touch filled with love and compassion. She regularly placed everyone before herself. Her strength and perseverance allowed her to serve as a role model for many others throughout her life and her work ethic allowed her to remain working into her 80's where her selflessness never ebbed.
Her selflessness was also reflected in her devotion to her family. She spent years at home raising her four children and helping to care for parents and grandchildren.
Sally also cherished the family pets throughout the years. Many a dog or cat was the recipient of her love and spoiling. Her arrival into Heaven was certainly met with many a wagging tail.
As an adult, she was a member of the St. Francis School of Nursing Alumni Association, volunteered countless hours to the Pennsbury Athletic Association and the Pennsbury HS Football Parents Club. She also was a member of the Trenton Country Club.
Sally was the wife of the late John J. Giordano, DDS, who passed away in 1987. She is survived by her four children, John Giordano and his wife, Gina of Lower Makefield, Mary Anne Ritchie and her husband, Ken of Yardley, PA; Vincent Giordano and his wife, Patty of Pineville, PA, and Richard A. Giordano of Langhorne, PA; eight grandchildren, Courtney Leigh (Vince) Haugh, Brie Elizabeth Giordano, Nicholas Vincent (Shannon) Giordano, John Kenneth Ritchie, Ryan Patrick Ritchie, Catherine Anne Ritchie, Jessica Marie Giordano, and Christina Anne Giordano, and four great grandchildren, Gracelynn Elizabeth Giordano, Giovanni Vincent Giordano, Vincenzo Dominick Giordano and Fiona Elizabeth Haugh.
The family would like to give a special thanks to Giuliana Marrazzo and the Holy Redeemer Home Health Palliative Team, especially Denise, Marie, and Ellen who provided Sally loving care and an immense amount of support and comfort during her time battling her health issues this past year
Friends may call from 4pm to 8pm Wednesday and on Thursday from 10am to 11am at the FitzGerald-Sommer Funeral Home, 17 S. Delaware Avenue (River Road), Yardley, PA. Her funeral service will be at 11am Thursday at the funeral home. Burial will follow at St. Mary's Cemetery, Hamilton Twp., NJ.
Memorial contributions may be made to St Francis Medical Center School of Nursing, 601 Hamilton Ave, Trenton, NJ 08629 to provide a scholarship in Sally's name for a nursing student. Please reference "In memory of Sally Anne Yaeger Giordano" in the memo field).