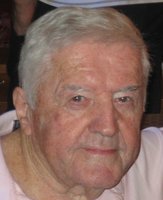 Robert E. Riesenberger
Robert E. Riesenberger of Newtown, PA died Friday, December 15, 2017 at Chandler Hall. He was 91.
Born in Brooklyn, NY, son of the late George William Oswald Riesenberger and Anna Agnes (Garry ) Riesenberger, he has been a Bucks County for over 55 years, residing in Yardley, Lower Makefield and Washington Crossing.
Robert was a sales representative for American Cyanamid Company in Princeton, NJ. A graduate of Jackson Heights High School in Queens, NY, he received his B.A. from Hofstra University in 1949 and his M.B.A. from Hofstra in 1953. He worked in sales for Birds Eye Foods and National Diary prior joining American Cyanamid and moving to the area in 1961.
Robert was offered a baseball contract by the New York Yankees out of high school, but chose to enlist in the US Navy during World War II. When he returned from his Naval service and attended Hofstra, the Pittsburgh Pirates
indicated an interest in his baseball talent, but Robert continued with his studies to prepare him for a career in business. He was long time member of Saint Ignatius parish in Yardley as well as a loyal fan of the New York Football Giants.
Husband of the late Jane M. Riesenberger, he is survived by his son, Dr. Robert E. Riesenberger, Jr. and his wife Heidi of Doylestown, PA; his daughter, Dr. Jane Snyder of Massachusetts, and son, Dr. James D. Riesenberger and his wife Nancy of Newtown, PA; his grandchildren, Lindsey Newman and her husband Matthew, John Riesenberger, John Henry and Matthew Snyder, and Rebecca, Connor and Nolan Riesenberger, and two great grandsons, Jack Newman and Luke Robert Riesenberger.
His Memorial service will be 2:30pm Friday May 18, 2018 at the Washington Crossing National Cemetery, Newtown, PA.