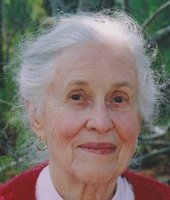 Agnes Compton Stierwald
Agnes C. Stierwald, age 102, died at Spring Village at Floral Vale in Yardley, PA on December 4, 2017. Born in Rochester, NY in 1915 she graduated from John Marshall High School and earned a degree in art education from Skidmore College in 1938. She taught art in upstate NY before marrying Rev. George C. Stierwald in 1945. Together they served in five different Episcopal parishes. While raising 3 children, Agnes taught children's art classes, conducted workshops on the 7 Lines of Design and did substitute teaching in St Paul, MN Public Schools. She said if she ever wrote a book about substitute teaching it would be titled "Fill the Room with Water – Here Comes the Sub" - that was written on a blackboard where she taught one day.
In 1984 George and Agnes retired to the home they designed and built in Orleans, MA on Cape Cod. Her talent in watercolor painting and playing the piano by ear were featured in a documentary "Wisdom of the 80's and Beyond." The film, about six Cape Cod women artists, was premiered at the 2007 Woods Hole film festival.
Agnes is predeceased by her parents, the Rev. Dr, William C. Compton, and Elizabeth Mae Compton; her husband of 58 years Rev. George C. Stierwald, premature twins John M. and Philip W, son William C. Stierwald, and sisters Elizabeth C. Case and Charlotte C. Spencer. She will be greatly missed by her daughter, Susan S. LaRosa (Dennis) of New Hope, PA, grandsons Christopher of St Paul, MN and Gregory of New Hope, son Jonathan W. Stierwald of St Paul, MN and many nieces and nephews. Agnes was a devoted wife and fun-loving Mother and Grandmother. She was beloved by her family and long-time friends.
The family wishes to extend their appreciation to the staff of Spring Village and to the hospice caregivers of Eleanor's Garden for the compassionate care shown to Agnes.
A memorial service to celebrate her life will be held on Saturday, January 6, 2018 at 2 pm at the Church of the Incarnation, 1505 Makefield Road, Morrisville, PA 19067. The family will receive condolences at 1 pm before the church service. Rev. Harriet Kollin will officiate. In lieu of flowers, remembrances in her name may be made to the Church of the Incarnation or to Operation Smile, 3641 Faculty Blvd, Virginia Beach, VA 23453.