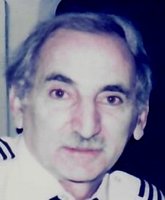 Charles A. Thomas
Charles A. Thomas of Lower Makefield Township, PA died on Tuesday January 2, 2018 at St. Mary Medical Center in Langhorne, PA., with his beloved wife and daughter at his side.
Born in Pittsburgh, PA, a son of the late James Thomas and Mary Indido Thomas, he resided in Lower Makefield for the past 50 years.
Chuck retired from a life long career in aviation as a Senior Captain for American Airlines, based in New York. Upon graduation from Hopewell High School in Aliquippa, PA, he enlisted in the U.S. Air Force. Chuck continued his education at Embry-Riddle Aeronautical University in Daytona Beach, FL. Upon his graduation, he began a career as a pilot in commercial aviation.
During his 30 years at American Airlines, he piloted the DC 6 and 7, B-727, Bac-111, L-188, B-707, DC-10, and his favorite the Boeing 747 (which he called "Big Momma"). In his retirement, he enjoyed trap shooting at local gun clubs, bicycling and riding his motorcycle, flying his Beech Travel Air and later his Cessna 195, attending the Philadelphia Orchestra, eating hamburgers with the Thursday lunch group, watching the Eagles, and spending time with his darling granddaughters. He was a member of the American Airlines Grey Eagles and the Allied Pilots Association.
He is survived by his wife, Rita May Tantum Thomas; his daughter and son-in-law, Tiffany and Justin Macedonia of Millbrook, NY, his two granddaughters, Claire and Grace Macedonia, and his precious cat "Piper Cub"! Also, two sisters, Alice Michaels, and Anne Girata of Pittsburgh, PA.
Friends are invited to call on Thursday January 11th from 4pm to 7pm at the FitzGerald-Sommer Funeral Home, 17 S. Delaware Avenue (River Road), Yardley, PA. His funeral Mass will be celebrated at 11am Friday January 12th at Holy Trinity Church, Morrisville, PA., officiated by Monsignor John C. Eckert. Interment will be private.
In lieu of flowers, memorial contributions may be to Animals in Distress, 102 Winding Way, Trenton, NJ 08620.