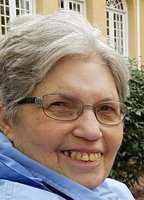 Constance L. Brown
Constance L. Brown (Connie) of Twining Village in Holland, PA died on Friday, January 26, 2018, at Twining Village. She was a resident of Upper Makefield Township for 42 years before moving to Twinning Village five years ago.
Connie was the beloved wife of the late Warren R. Brown. She is survived by her three children; Rob and his wife Debra of Manchester, NH, Sue Connelly of St. Leonard, MD, and Chris and his wife, Kyunghi of Ft. Washington, PA; along with grandchildren, Craig, Michael, Shinaee and Shinhee. She was preceded in death by her grandson Sean.
Connie was born on August 30, 1937 and raised in Rahway, NJ. She was the daughter of the late John Morrill and Janet Smith Blum. After graduating from High School in 1955 Connie studied at Katherine Gibbs School in Montclair, NJ and then worked at Westinghouse as a secretary. She met Warren and they were married in August 1962.
Connie was always an avid bridge player and enjoyed membership with her Bridge Club and continued to play when she could at Twinning Village. She also enjoyed Gourmet Club, Washington Crossing United Methodist, and serving as a volunteer with the Welcome Wagon. She was active with scouts and Women's club as well.
Services will be held at Twining Village Senior Living Community on Saturday, February 10 at 2 p.m.
In lieu of flowers, the family is requesting that you donate to a charity of your choice in memory of Constance Louise Brown.