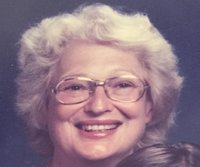 Vida S. McDonough
Vida S. McDonough of Lower Makefield Township, PA died peacefully on Sunday February 11, 2018 at her home. She was 95.
Born in Miami, FL, daughter of the late Charles and Ethel Middleton Selden, she resided in Lower Makefield for the past 58 years.
Vida was a teacher with the Hamilton Township School District. She taught fourth and fifth grade at the Alexander Elementary School. She graduated from Duke University and received her Master's Degree in Education from the College of New Jersey.
Vida was the mother of the late Patrick McDonough, and is survived by three sons and two daughters-in-law, William S. and Kathy of Huddleston, VA, David J. and Cheryl of Lakeland, FL, and Samuel A. of Lower Makefield; three grandchildren, and three great grandchildren.
A service and Words of Remembrance will be at 11am Friday at the FitzGerald-Sommer Funeral Home, 17 S. Delaware Avenue (River Road), Yardley, PA, where friends may call from 10:30am, Interment will follow at St. Ignatius Cemetery.