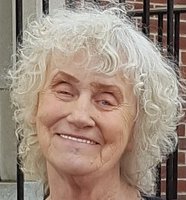 Dorothy Nix
Dorothy Nix of Morrisville, PA died on Saturday March 3, 2018 at Chandler Hall Hospice in Newtown, PA. She was 76.
Born in Staten Island, NY, daughter of the late Roland and Helen Borlowski Barnes, she resided in Morrisville for the past ten years.
.
Dorothy was a homemaker and devoted to her children and grandchildren; they were her everything. She loved cooking, reading and antiquing. Dorothy was generous and kind soul, and member of the Holy Trinity Church.
She was the wife of the late Edward Nix, mother of the late Michael Nix, and sister of the late Michael Barnes. Dorothy is survived by her daughter and son-in-law, Karen and Jeffrey Lee of Morrisville, PA; her son and daughter-in-law, Robert and Allison Nix of Staten Island, NY; daughter-in-law Laurie Nix of Morrisville, and two grandchildren, Tyler Nix and Abby Nix.
Her Funeral Mass will be celebrated on Friday March 9th at 10am at Holy Trinity Church, 201 N. Pennsylvania Avenue, Morrisville, PA. Interment will be private.