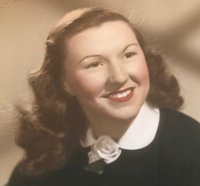 Bernardine A. Neibel
Bernardine A. Neibel of Washington Crossing, PA died on Sunday May 6, 2018 at Sunrise of Lower Makefield. She was 87.
Born in Brooklyn, NY, a daughter of the late William and Ann Bakun McGrellis, she resided in Washington Crossing for the past 45 years.
Bernardine welcomed the varied foreign postings of her husband throughout Asia. She made the most of both the local customs and the American community working abroad. Her love for adventure allowed her to embrace the cultures of the countries where she lived.
Bernardine was an avid sailor with her husband Walter. They owned a sail boat that was docked in the Chesapeake Bay. Bernardine earned her Captain's license and experienced the beauty of nature from the water.
She is survived by her husband, Walter R. Neibel; her son, Kenneth R. Neibel of Chattanooga, TN; two daughters and sons-in-law, Karen and Michael Labarre of Mars, PA, and Patricia and Alan Fischer of Richboro, PA,, and two grandchildren, Sarah Labarre and Eric Fischer. She was the sister of the late Helen, Dorothy, and Evelyn.
Her Funeral Mass will be celebrated at 10am Thursday May 17th at St. George's Church, 1370 River Road, Titusville, NJ, where friends may call from 9am.Interment will follow at Washington Crossing National Cemetery in Newtown, PA.
In lieu of flowers, contributions to the Alzheimer's Association, Delaware Valley Chapter, 399 Market Street, Philadelphia, PA 19106, would be appreciated.