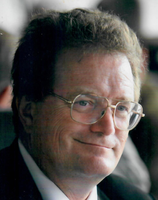 Robert A. Perniciaro
Robert A. Perniciaro of Lower Makefield Township, PA died on Friday February 1, 2019 at his home. He was 65.
Born in Kew Gardens, NY, son of the late Joseph A. and Claire Hunt Perniciaro, he has resided in Lower Makefield since 1962.
Bob was a graduate of St. Mary's Manor (Marist Prep) in Langhorne, PA and Temple University. He began his business career with the Penn Central Corporation as a Property Accountant. In 1988, Bob established his own accounting firm in Northeast Philadelphia ( now in Langhorne) , Robert A. Perniciaro Accounting Services, which has thrived through the years. Bob was
a member of the Pennsylvania Society of Tax and Accounting Professionals.
Bob was an avid sportsman throughout his life. He was a member of Yardley Country Club since 1978 and greatly enjoyed playing with his daughter Jen.
He was an accomplished bowler and competed in events on the PBA Tour with his son Robert, Jr. Bob built his own cabin in Princeton, Maine which was the hub of many hunting and fishing trips with his son Tim.
He is survived by his wife of 43 years, Kathleen Goodall Perniciaro; two sons and daughters-in-law, Robert A. and Carole Perniciaro, Jr. of Belle River, Ontario, and Timothy and Patricia Perniciaro of Warrington, PA; a daughter and son-in-law, Jennifer and Markham Walton of Pennington, NJ; eight grandchildren, Christopher and Tyler Walton, Sara, Daniel and Alex Monk, and Declan, Kieran and Conor Perniciaro; great granddaughter, Freya Monk; two uncles, Kenny Hunt and Rev. Fr. Kevin Hunt, O.C.S.O., and a niece, Rachael Widenmeyer. He was predeceased by two sisters, Claire "Missy" Perniciaro and Carol M. Perniciaro, and infant brother, Kevin Perniciaro.
His funeral Mass will be celebrated at 10:30am on Thursday February 7th at St. Ignatius Church, 999 Reading Avenue, Yardley, PA. Burial will follow in Newtown Cemetery, Newtown, PA. Friends are invited call from 5pm to 8pm Wednesday at the FitzGerald-Sommer Funeral Home, 17 S. Delaware Avenue (River Road), Yardley, PA.
Bob battled pancreatic cancer for the past two years. He gamely signed on for
all experimental treatments conducted by the University of Pennsylvania in the hopes that the results of these trials could help others. In lieu of flowers, please
consider a donation to " giving.apps.upenn.edu/fund=MED&fund=604 388."