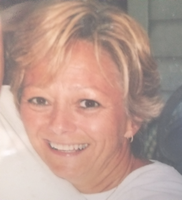 Catherine Ann Calorio
Catherine Ann Calorio "Cathy" 62 of Lower Makefield Township, PA passed away on Saturday, March 30, 2019 at Chandler Hall Hospice in Newtown, PA.
Cathy was born in Newark, NJ, daughter of Elizabeth Britton Lees and the late Charles McGowan Lees, she had resided here in Yardley for the past 30 years.
Cathy was a retired Executive Director with Verizon for 36 years working primarily in Payroll. She earned her Master of Business Administration degree from Seton Hall University, and her BS degree from Fairleigh Dickson University and was a graduate of St. Cecilia High School in Kearny, NJ.
She was a member of St. Ignatius Parish in Yardley, PA, and a volunteer at the Bee Well Boutique at St. Mary Medical Center in Langhorne, PA.
Cathy is survived by her Loving husband, Michael T. Calorio; three children, Joseph, Nicholas, and Danielle Calorio; her mother Elizabeth Britton Lees; two brothers Charles M. Lees, Jr. and his wife, Yelena M. Lees, Steven M. Lees; two sisters-in-law, Michele Calorio-Hepler, and Nicole Calorio-Och; a niece and nephew, Jessica Lees and John Lees; and several cousins, nieces & nephews. She was the sister of the late Jack C. Lees and granddaughter of the late Margaret Black Lees with whom she enjoyed a special relationship.
Cathy will be sadly missed by a sisterhood of very special girlfriends. Words can't express how much we will miss her, Cathy was a special person with a heart of gold who only asked of us, "smile when you think of me".
Relatives and friends are invited to celebrate Cathy's life, Wednesday, April 3, 2019 from 9am to 10:30am at the FitzGerald-Sommer Funeral Home, 17 S, Delaware Avenue (River Road), Yardley, PA. Words of Remembrance will begin at 10:30am. Followed by a celebration of her Funeral Mass at 11:30am at St. Ignatius Church, 999 Reading Avenue, Yardley, with a repast at Christine's Restaurant 385 Oxford Valley Road, Yardley.
In lieu of flowers, memorial contributions in Cathy's memory may be made to NOCC, PO Box 631, Holicong, PA 18928 with contact info vsoldati@ovarian.org 215-997-8075. Online donations can be made in memory of Cathy at runwalk.ovarian.org/philadelphia in which Cathy attended with "Team Lees".