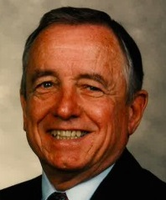 Robert P. Doyle
Robert Patrick Doyle, originally from Providence Rhode Island, died peacefully on May 6, 2019. He is the son of the late Patrick J. Doyle and Elizabeth (Scully) Doyle. He was preceded in death by his wife Georgina (Wallace) Doyle, and his brothers John, Thomas, Edward, and Raymond Doyle.
A true patriot, Robert proudly served in the United States Navy during World War II on the USS Canberra. He was a Golden Globe boxer while on the ship. After serving in the military he had the opportunity to work for American Brand where he marketed to military installations. During this time, he played as catcher for the Monowatt semi-pro softball team, and was also awarded Salesman of the Year several times. He retired in 1994 as a purchasing agent for the State of Rhode Island.
Robert was a devout man of faith, and actively volunteered at his home parish, Saint Williams. He was a caretaker of all things: supporting his childhood friend who ran for office, religiously donating blood to the American Red Cross, and maintaining his meticulously cared for cars. He was an avid Red Sox and Patriots fan. He also enjoyed golfing, spending time with his daughter Pat, and sharing his love for Dove ice cream with his grandchildren.
He was a devoted husband, father, and grandfather. He will be fondly remembered as beloved Dad, grandfather "Poppop", great grandfather "PopPopPop", and Uncle Bunky.
Robert is survived by many who love and will miss him dearly, especially his daughter Pat, son-in-law Sal Caimano, grandchildren Kate Caimano Emerson (Jeremy), Christopher Caimano (Delaney), and Rebecca Caimano, great grandchildren Peyton, Samantha, Lucy, and Lily Emerson, Reagan and Becket Caimano, and his many nieces and nephews.
His funeral Mass will be celebrated on Tuesday May 14th at The Olde Church of Saint Andrew (135 S. Sycamore Street Newtown Pa. 18940) at 11AM. Burial will follow at the Washington Crossing National Cemetery at 1:00PM. Friends and family may call from 6-8pm on Monday May 13th at FitzGerald-Sommer Funeral Home (17 S. Delaware Ave. Yardley, PA 19067).
In lieu of flowers, memorial contributions may be made to Children's Hospital of Philadelphia (CHOP) at http://give.chop.edu or to Hospice at Chandler Hall www.kendalcharitablefunds.org .