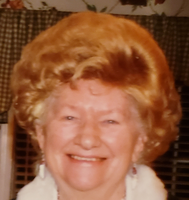 Dolores L. Urglavitch
Dolores L. Urglavitch of Yardley, PA passed away on Sunday May 12, 2019 at her home while surrounded by her three beloved sons. She was 86.
Born in West Hazleton, PA, daughter of the late Joseph and Clara Zellner, she resided in Yardley for 64 years. She attended West Hazleton school system where upon high school graduation she received special recognition for perfect attendance throughout her entire elementary and secondary education there. Such early habits of loyal attendance became even stronger throughout her adult life with her commitments to family and helping others.
Dolores moved to Yardley with her family in 1955. A homemaker with an active family, she concentrated on her children's schooling and activities. Dolores also participated in community programs. She enjoyed going to the Morrisville Seniors and engaged in Bible studies at The Philadelphia College of Bible (now Cairn University).
Wife of 61 years to the late Richard P. Urglavitch Sr., she is survived by three sons and two daughters-in-law, Richard P. and Catherine Urglavitch, Jr. of Stockton, NJ, Bryan D. Urglavitch of Yardley, PA, and Gary and Rena Urglavitch of Lower Makefield Twp., PA; two grandchildren; Garret and Evan, two brothers, Joseph and Carl Zellner, a sister, Lorraine Elcheid and many nieces and nephews. She is predeceased by her brother Henry Zellner, sister Alice Weber and sister Evelyn Speshock.
Her Funeral Mass will be celebrated at 10:30 AM Monday May 20th at St. Ignatius Church, Yardley, PA. Burial will follow in the parish cemetery. Friends may call from 5pm to 8pm Sunday at the FitzGerald-Sommer Funeral Home, 17 S. Delaware Avenue (River Road), Yardley. In lieu of flowers, memorial donations can be made to St. Ignatius Catholic Church, 999 Reading Ave., Yardley, PA 19067.