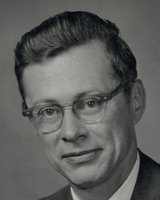 William J. Payton
William J. Payton (Bill) rejoined his wife Janice on June 16, 2019, after being apart from her for 10 years. Bill resided at the Delaware Valley Veterans Home, Philadelphia, PA, for the past several years where he passed away from kidney disease.
Born in Brooklyn, NY, on October 10, 1931, Bill grew up in the Bronx before moving to Tarrytown NY and Butler NJ prior to taking up residence at the veterans home in 2015. A veteran of the Korean War serving as an army medic, after his discharge at the war's end he worked as a bank teller, auditor and night clerk prior to his retirement.
He is survived by two sons, William Jr. and Stephen, their wives, Barbara and Cindy, and his grandson Sean. He is also survived by numerous step grandchildren and step great-grandchildren. He is also survived by two brothers, Jack and Fred and various nephews and nieces.
Friends may call at the FitzGerald-Sommer Funeral Home in Yardley PA on Tuesday, June 18 from 5pm to 7pm. The burial will take place Wednesday June 19, at the Sleepy Hollow Cemetery in Tarrytown NY, where he will be next to his wife of 50 years.