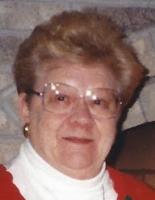 Barbara S. Corr
Our beloved Barbara Stewart Corr died peacefully in her sleep on Friday January 27, 2017 at Pine Run Lakeview in Doylestown, PA. She was 87 years old.
After being born and raised in North Andover, MA, Barbara and her late husband Jack moved to the Yardley area and started a family. Barbara resided in Morrisville, Lower Makefield, and Yardley for the past 60 years, but never lost her lovely New England accent.
She was the daughter of the late Frank and Hannah Bamford Stewart.
She was the widow of John F. Corr (Jack) who passed away in 1991. She was also preceded in death by brothers Frank and Robert Stewart. She is survived by her son and daughter-in-law, John F. and Dorlene Corr; her daughter and son-in-law Elizabeth and Anthony Miller; two sister Marian Gaffny, and Grace (Donald) Farrow; brother Gerald (Glenda) Stewart; five grandchildren, Caleb, Luke, and Sarah Miller, and Mallory and Dalton Corr; as well as numerous nieces and nephews.
Barbara loved the Yardley community and especially enjoyed dining out with family and friends. Funeral services and interment will be held privately for the family on Friday February 3rd.