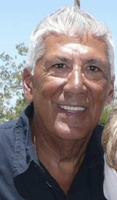 Mathew A. Voulgarakis
Mathew Anthony Voulgarakis
Mathew A. Voulgarakis of Newtown, PA died on Sunday December 20, 2020 at St. Mary Medical Center in Langhorne, PA. He was 78.
Born on Chios Island in Greece and raised in Weirton, West Virginia, Mathew was the son of the late Anthony and Eleni Siderakis Voulgarakis. He resided in Newtown for over 30 years.
Matt was a retired pharmacist who spent his entire professional career working for Thrift Drug, Eckerd Drugs and Rite Aid. He was graduated from West Virginia University with a BS and MS in pharmacology.
Matt lived his life to the fullest. When not traveling the world with his wife Libby, with whom he particularly loved to hike and explore, he enjoyed spending time honing his natural artistic skills throughout his life, as well as rooting for his beloved Pittsburgh Steelers. His adventurous spirit was contagious, and exuberance, sense of humor and human decency were noted and appreciated by everyone who was blessed to know him. In addition, and of particular note, Matt loved and was extremely proud of his Greek heritage and the Greek Orthodox Church, of which he most recently served as a Parish Council Member of his beloved St. George Greek Orthodox Church.
Mathew is survived by his wife, Liberty Pelalas Voulgarakis; his son and daughter-in-law, John and Maria Kasselakis; two daughters and sons-in-law, Gigi and Lawrence Rosenberg, and Tina and Max Matthes; eight grandchildren, Virginia and Phoebe Kasselakis, Bronson (Megan), Wyatt and Ava Rosenberg, and Athena, Bella and Paris Matthes; niece, Kassiane (Michael) Campopiano; nephew, Anthony George; great niece, Lucia; great nephew, Giulian, and brother-in-law, Fr. Andrew George.
He is predeceased by his loving sisters Vickie Trombettas and Presbytera Maria George.
Mathew's viewing will begin at 10am on Wednesday, December 23, 2020 at St. George Greek Orthodox Church, 1200 Klockner Road, Hamilton, NJ, with his funeral service held thereafter at 11am. Burial will follow at the Newtown Cemetery, Newtown, PA.
In lieu of flowers, memorial contributions to St. George Greek Orthodox Church would be appreciated.