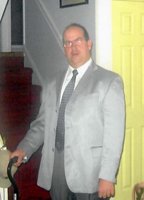 Christopher Adamo
Christopher Adamo
Christopher Adamo,49, passed away from the scourge of the COVID virus on
January 5, 2021.
Born one of God's Special Children, his disabilities never deterred him from filling a room with his smiles. Just one month shy of his milestone 50th birthday, Chris was a graduate of Pennsbury High School and was employed at Associated Production Services for 20 years. He was also a member of St. John the Evangelist Church Choir for many years, a member of Co-Ed Singles and an avid bowler with Special Teams Project.
He is survived by his parents, Leon and Patricia Adamo and his brother, Jason.
Chris was always proud of his large Italian family. Predeceased by his grandmother, Italia Principi, and grandparents, Leon and Pauline Adamo, Chris leaves behind his uncles, Thomas Principi and wife Nancy, Daniel Adamo and wife Carolyn. Also, his aunt, Marlee Aker and husband Kim. Chris has many cousins who loved him so much and will miss him.
Chris leaves behind the staff and friends that loved and cared for him over the years from Access Services. He cherished them all.
Chris' parents are eternally grateful for all the care and love given to Chris.
Services will be private with interment at a later date.