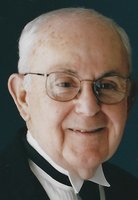 Thomas J. Lynam
Thomas John Lynam of Washington Crossing, PA (formerly of Yardley, PA) passed away peacefully on Friday, February 5, 2021 surrounded by the love of his family. He was 91.
Born in Jersey City, New Jersey, Thomas was the son of the late Thomas Joseph and Jane Lynam nee Davis. He attended St. Paul's Grammar School in Jersey City, where he met the love of his life, Marjorie "Margie" Young. The couple's love affair began while he was a student at St. Peter's Prep in Jersey City and continued for over 75 years (with the exception of one year when Marjorie "broke his heart" to date other people). Luckily, they reunited. The couple was married on November 22, 1952 and went on to have 9 children, 17 grandchildren, and 12 great grandchildren. While at St. Peter's, he was a varsity football player and musician (he played the trumpet). Having lost his mother at a young age, he benefited from the guidance of a loving extended family.
Thomas graduated from St. Peter's College in Jersey City with a degree in accounting before serving in the U.S. Army Corps of Engineers during the Korean War. After his honorable discharge, Thomas joined the accounting firm of Peat, Marwick, Mitchell and Company as an auditor before joining United Savings and Loan Association in Trenton, New Jersey, where he eventually became President and CEO. After retiring from United Savings, he worked at Grand Rental Station and Adams Equipment Rental in Trenton in various capacities until retiring. Since then, Tom and Margie filled their days with shopping trips, good meals, the joy of family, and their Catholic faith, which helped them navigate a number of health challenges. For the past three years, Tom and Marge have lived with their daughter Kathleen and her husband George, whose generosity of spirit made it possible for this devoted couple to live out the last years of their long and fruitful marriage together.
Over the years, Thomas and Margie enjoyed spending time at the Jersey Shore and attending conventions with United Savings and Loan and the New Jersey Savings League. Always ready with a smile and a joke (sometimes at the expense of the listener), Thomas was a sweet and gentle man whose life was a shining example of virtue and honor. Perhaps Thomas' greatest legacy is the perfect earthly love that existed between him and Margie. Their bond and devotion to each other was something that few are able to attain and was a gift to anyone who had the privilege to witness it. He will be missed by so many, but by none more than his wife who cared for him until his last breath.
In addition to his wife, Thomas is survived by eight children: Kathleen Crane (George) of Washington Crossing, PA; Patricia Crane (Christopher) of Mechanicsburg, PA; Thomas F. Lynam (Diane) of Pipersville, PA; Jean Johnson of Yardville, NJ; Teresa Twamley (David) of Princeton, NJ; Elizabeth Vrancik (Gerard) of Kintnersville, PA; Regina Walker (Kenneth) of Yardley, PA; and Christine Thiel (Lawrence) of New Hope, PA. He had 17 grandchildren and 12 great-grandchildren. He was preceded in death by his sister Jane Waggner and an infant son.
Those wishing to celebrate Thomas' life are invited to a mass of Christian burial on Wednesday, February 10 at 9:30 a.m. at St. John the Evangelist Church located at 44 Bridge Street, Lambertville, NJ 08530. Attendees are asked to please wear masks and practice social distancing.
In lieu of flowers, friends and family are invited to make a donation in Thomas' name to Children's Hospital of Philadelphia or a charity of their choice.