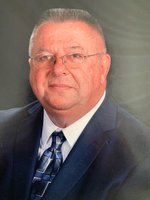 Jeffrey D. Halter, Sr.
Jeffrey Davison Halter, Sr. passed away February 4, 2021, surrounded by family, after a recent diagnosis of pancreatic cancer.
"Jeff" was born to Darita Brown and John Halter on August 12, 1948, in Minneola, New York. His family later moved to Washington, New Jersey, where he grew up enjoying the outdoors and sports. In 1966 Jeff graduated from Washington High School and soon enlisted in the Air Force. While stationed in the Philippines, he met the love of his life, Jacquelynn Wilsford. Jeff and Jackie returned to the United States and married in 1970. Throughout their 50 years of marriage, Jeff and Jackie moved between farm life in Tennessee and suburban New Jersey, finally settling in Yardley, PA, in September 2020. He enjoyed golf, travelling, gardening and was a wonderful cook. Jeff was also an active member in his church.
Jeff was proud of his career working in Cardiac Cath Labs and was skilled in every aspect. After graduating from nursing school at age 40, he became the manager of several Cath Labs in both TN and NJ. Jeff had a gentle and kind demeanor with his patients, and was revered by his staff and coworkers as a true mentor and friend. Jeff was a loving family man. Aside from being survived by his wife, Jackie, Jeff also leaves behind two children, Jennifer (Andrew) and Jeffrey, Jr (Nicole), and four grandchildren; Jackson, Riley, Ellery and Jeffrey III. Predeceased by his older brother, John J Halter, Jeff also leaves behind a brother, Robert Kramer (Kim) of Florida, and sister, Kimberly Cangiolosi of Georgia, sister-in-law Teresa Brundige (Michael) of Tennessee, along with numerous nieces and nephews, whom he adored.
A private service will be held at Woodside Church on Tuesday, February 16, followed by burial at Washington Crossing National Cemetery at 2:15pm. Friends are welcome to the burial. The church services will be streamed at 1pm and can be accessed at woodside-church.org.
Memorial contributions can be made to the VFW Post 6393 or Pleasant Mount Cumberland Presbyterian Church in Columbia, TN.