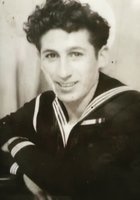 Matthew J. June, Sr.
Matthew J. June Sr.
March 29, 1926 - February 11, 2021
On Thursday morning, February 11, Matthew J. June Sr. of Morrisville, PA passed away peacefully. Admired and loved by everyone who knew him, he was surrounded by his immediate family in his final days.
Matthew is survived by his wife, Josephine Elizabeth June (née Popson); sister Catherine of Swoyersville, PA; brother Carl of Larksville, PA; one daughter Josephine Watson (James) who lives in Morrisville, PA; two sons, David (Debra) who also lives in Morrisville; and Matthew, who lives in Camp Hill, PA; along with seven grandchildren, Jim (Jackie), Mike (Tiffany), Matt (Sasha), Jen (Justin), Jake, Kristen (Kevin), and Lauren; and nine great-grandchildren, Aaliyah, James, Charlotte, Michael, Madeline, Josephine, Jasper, Avery, and Justin Jr.
A loving family member, trusted co-worker, proud veteran, dedicated coach, and valued community member, Matthew was known by many names: "Mike" to his sisters and brothers, "Matt" or "Skip" to his friends and co-workers, "Coach June" or "Mr. June" to generations of young people, "PopPop" to his grandchildren and "NuNu" to his great-grandchildren, "Junie" and "Hammer" and many more that all reflected the big life he led and the even bigger influence he left behind.
Matthew was born on March 29, 1926, in the city of Swoyersville, Luzerne County. He is the son of Carl June, Sr. and Josephine "Nellie" Lopes (née Siracuse), and represented the best of what has become known as the Greatest Generation. After helping his family survive the Great Depression, he joined the Navy at age 16 and was sent to fight in the Pacific, where he was helping to run a supply yard at PT Base 17 on Samar Island when the war ended. Returning home, he finished his education and graduated from Swoyersville High School, where he had excelled as a basketball player and now met the love of his life, Josephine. They were married in 1948 and celebrated their seventy-second wedding anniversary last July. Typical of his generation, he believed in hard work and set out with Josie to build their American Dream. Venturing to the Yardley-Morrisville area, he took a job at General Motors, where he worked for thirty-nine years. Bored with retirement, he began working part-time at Giant Foods in 1992 and, even after retiring a couple of years ago, would still make daily trips to visit with his former co-workers and customers.
Throughout his life, he showed the same dedication to his family, whether it was coaching his sons' basketball and baseball teams, attending a dance recital, refereeing a backyard Turkey Bowl, or regaling his grandkids with stories. Despite his stature, Matt had a quiet strength and believed in leading by example. He always wanted to help and had a kind word for everyone. He was a worker and provider and peacemaker. When things got tough in his life, he would remember men like his classmate, George Haduch, who was killed in the war and who he considered the real heroes. That attitude and the life he led made him our hero.
Matt and Josie are members of St. John the Evangelist Catholic Church in Lower Makefield, PA. Funeral arrangements are being coordinated by FitzGerald-Sommer Funeral Home in Yardley, PA. Services for the immediate family will be held there on Thursday, February 18, followed by burial at the Washington Crossing National Cemetery in Newtown PA. In lieu of flowers, the family asks that donations be made to the USS Midway Museum and Foundation (www.midway.org/give-join/support-us/donate-now/) in memory of Matthew June.
We love you, Dad, and look forward to seeing you again.