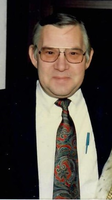 Bruce R. Jablon
Bruce R. Jablon
Bruce R. Jablon of Morrisville, PA died on Saturday February 13, 2021 at St. Mary Medical Center in Langhorne, PA. He was 77.
Born in Trenton, NJ, son of the late George and Doris Rodgers Jablon, he has been a lifelong Yardley and Morrisville resident.
Bruce was the owner/operator of Pennsbury ARCO on Trenton Avenue in Morrisville for many years. Agraduate of Pennsbury High School, he served in the US Army Reserves and was a loyal member of the American Legion Knowles-Doyle Post 317, Yardley. Bruce was a long-standing member of the Morrisville Presbyterian Church.
He is survived by his wife, Marie Diane Elmer Jablon, his daughter and son-in-law, Kellie Diane and Tom Lewis of Gulph Mills, PA, and his sister and brother-in-law, Dona and Jim Purdy of Del Ray Beach, FL.
His funeral service will be at 2pm Wednesday April 14, 2021 at the Morrisville Presbyterian Church, 771 N. Pennsylvania Avenue, Morrisville, PA, with interment in the Church Memorial Garden.
In lieu of flowers, donations may be made to the Morrisville Presbyterian Church.