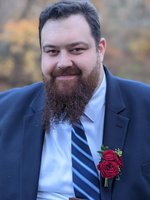 Joseph M. Baber
Joseph M. Baber
Joseph M. Baber of Richboro, PA died on Sunday February 28, 2021 at his home. He was 33.
Born in Princeton, NJ, son of the late Gregory S. and Roberta Hoffman Baber, he was raised in Yardley, PA and after a few years of moving around, settled in Richboro last year with his family.
Joseph was a gifted cyber security technician. His interests were computers, technology, and music. He was an avid firearm enthusiast. He enjoyed participating in various New Year Day Polar Bear Plunges especially in Atlantic City and in Cape Cod.He was also in the Knights of Columbus and enjoyed participating in service projects to help others in need. He was friends with everyone he met and could make you laugh until you cried.
He is survived by his partner, Samantha Rementer; two daughters, Lillian (3) and Cassandra Baber (8 months); sister and brother-in-law, Malia and Phillip Schmidt, and many good friends and extended family who will remember him with love.
His funeral service will be at 11am Thursday at the FitzGerald-Sommer Funeral Home, 17 S. Delaware Avenue (River Road), Yardley, PA, where friends may call from 10am. Burial will follow in Newtown Cemetery, Newtown, PA. Monetary gifts are being accepted for the immediate care of Joseph's children at https://www.gofundme.com/f/in-memory-of-joseph-baber