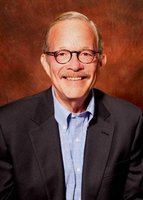 Roland Foster Miller, Jr.
Roland Foster Miller, Jr.
June 13, 1946 - March 4, 2021
Roland Foster Miller, Jr., 74 of Princeton, New Jersey, died peacefully on March 4th, 2021 after a short illness.
A masterful wordsmith, journalist, and teacher, Roland's subtle wit and resourcefulness made him a welcomed and trusted friend. A New York Times editor for more than 40 years, he joined the Times in 1977 as its youngest member on the Metropolitan Desk. Retiring in 2009, he continued part-time at NYT with his last assignment editing the Op-Ed page on Christmas Eve. For 21 years he was an adjunct professor at the Columbia Graduate School of Journalism, where he co-founded the Columbia News Service. Prior to the Times he worked for the Staten Island Advance and the New York Post. The recipient of many journalism awards, he was often cited for respecting the melody of each writer's voice.
Often seen with a book or Kindle in hand relaxing in the sun, he was a quiet, modest man with many talents. Whether playing sonatas by Chopin, Clementi, or Rachmaninoff, competing as a 3rd degree black belt in national karate tournaments or researching distant ancestors like Charlemagne or Fulk, King of Jerusalem and the Count of Anjou, Roland, a.k.a. R.F. or Skip, always had a deep reverence for life and his fellow man.
As a member of The Society of The Cincinnati in The State of Connecticut, he was chairman of its Historical Donations Committee for the past four years; Lt. Governor and former secretary of The Society of Colonial Wars in the State of New Jersey; a board member of The New England Society in the City of New York and chairman of The New England Society Book Awards. He was also a proud member of the Thomas Stanton Society. He was a longtime member of the NewsGuild of New York; the Silurian Press Club; The National Arts Club; The Bryn Mawr-Wellesley Book Sale; and a member of The Old Guard of Princeton New Jersey.
Born and raised in Sarasota, Florida, he is predeceased by his parents Mary and Roland Foster Miller and his dad Donald L. John. He is survived by his best friend and loving wife of 38 years Ireen Kudra-Miller, sisters Jodi John and partner Bill Bronson of Sarasota, Florida, Jill Mullins and husband Mike Donovan of Parrish, Florida, sister-in-law Karyn Coyne and husband George Sterling Coyne of Upper Black Eddy, Pa., sister-in-law Tara Kudra of Princeton N.J., nephews Sgt. Mason Mullins of Ft. Campbell, KY, Miles Mullins of Atlanta, GA, Aunt Joan Tatum of Sarasota, Florida, and many loving cousins.
A memorial service celebrating Roland's life is planned for the summer. In lieu of flowers, contributions in his memory may be sent to The Brain Tumor Research Fund for glioblastoma research at Penn Medicine: www.pennmedicine.org/BrainCancerResearch.