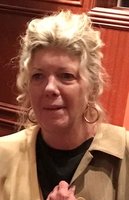 Patricia A. McAleavy
Patricia (Pat) Ann McAleavy of Yardley PA died on Monday March 22, 2021. She was 63.
Pat was born in Brooklyn, NY, daughter of the late Thomas and Jane McAleavy. She resided in Yardley PA for the last 25 years.
Pat graduated from St Francis College in Brooklyn, NY with a Bachelor's of Science and Masters Degree from Pace University. She enjoyed a distinguished career for 41 years with Merrill Lynch / Bank of America, most recently as a Director; Sr. Platform Manager working on Digital Strategy in the U.S. Wealth Management Division.
Pat was an active parishioner at St Ignatius Catholic Church as well as devoting time to the causes in her community. Pat had a love of all animals, especially her dogs, Lulu and Sadie. Her favorite place was on the beach in Sag Harbor. Pat's greatest happiness was enjoying life with her family and friends. But most of all Pat will be remembered for her tremendous generosity and her determination to accomplish anything. She was quick witted and could bob and weave with the best of them.
Pat is survived by her siblings Tom (Sylvia) McAleavy, Mary Jane McAleavy and Joe McAleavy; cousin Mary Elenita Durkin and nephew Joseph Durkin; nieces and nephew, Heather (Berkeley) Day, Sean (Lyssa) McAleavy and Kristen (Kelly) Mello; great nieces and nephews, Taylor, Jake, Austin, Matthew, Brooke, Ella and Kaden; cousins, the Magana's and Durkin's. She will be lovingly remembered by all.
She was preceded in death by her parents, Thomas and Jane McAleavy.
Her funeral mass will be celebrated on Monday March 29, 2021 at St Ignatius Roman Catholic Church, 999 Reading Ave., Yardley, PA at 10:30am. The service will be live streamed on Zoom. There will be a brief visitation with family and friends at 10am until time of service at 10:30am. Burial service will be on Tuesday, March 30, 2021 at St. Andrews cemetery in Sag Harbor, NY
In lieu of flowers, donations in Pat's honor can be made to St Jude Children's Hospital at http://giftfunds.stjude.org/Patricia_McAleavy
The funeral service will be live streamed on the Saint Ignatius of Antioch Facebook page https://www.facebook.com/St-Ignatius-of-Antioch-Church-1217359028277109/