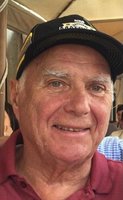 John M. Styner
John Marion Styner of Yardley, PA died on Wednesday March 31, 2021.
Born in July 1938 in Atlantic City, NJ and raised in Trenton, NJ. Son of the late Elizabeth (Betty) Grzybowski and stepfather Stanley. He resided in Yardley for the past 48 years. A master tool and die maker, metals machinist, molder and manufacturer, John established his own business, JMS Machining that customized precision products in PA/NJ.
John/Dad was a remarkably talented husband, father, grandfather and friend. He was a handsome, perpetually happy man who constantly and selflessly shared, helped and offered his skills to countless people. He was an unbelievable problem solver that could fix, make, tool, design, mold, engineer just about anything using his superior mechanical genius and intuitive grasp of complex engineering designs. From molding the original Barbie doll, Bausch and Lomb contact lenses, designing a competition shooting scope to manufacturing a satellite still resting on the moon, he was truly masterful. To his family and friends he was a legend.
John/Dad was a renowned weapons historian, specializing in military small arms and WWII weapons. A NRA Master classified pistol shooter with countless championships and awards to include receiving Camp Perry President's 100, he was revered in the competition shooting domain, dominating local and regional matches. He was tough to beat on the firing range; a skill his son Paul resumed in the Styner's name. He was also one of the original Founding Members of the Falls Township Rifle and Pistol Association as well as a lifetime member of the NRA.
If you ever met John/Dad you would know his legacy was to give of himself; be it a simple smile, a funny story or one of his classic jokes (you already heard but still laughed), he loved to make people happy and relished in his friendships and family. He gave of himself like no other. Kind eyes and kind hearted… he was a friend to all.
The true loves of his life were his family, bride, children and grandchildren. His world was cherished and embraced by the true love of his life, our mom, Anna Maria. The beautiful redhaired girl from Roma, Italy, he fell in love with her at first sight, treasuring, loving and adoring her. He was incomplete without her in his life and loved her endlessly.
John/Dad is remembered with immense love by his wife, Anna Maria Rosati Styner; three sons, son-in-law and two daughters-in-law; son John and his wife Jackie Styner of Levittown, PA, grandchildren, Joseph and Victoria; son Paul and his wife Lisa Styner of Yardley, PA, and grandson Chase; son Colonel (Retired) Thomas Styner of Washington, DC; daughter Valentina Styner and her husband Michael Dougherty of Langhorne, PA and three grandchildren, Michael Joseph, Lauren, and Lindsey Dougherty. He was the brother of the late Andrew Styner, a WWII Navy Veteran.
If you have a photo or a "John Styner" story please share with the Styner Family at VSTYNER@comcast.NET. `
Family and friends are invited to call on Tuesday April 6th from 5pm to 8pm at the FitzGerald-Sommer Funeral Home, 17 South Delaware Avenue (River Road), Yardley, PA. Funeral services will be private.