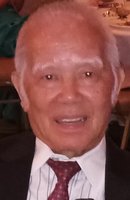 Virgilio G. Tuvida
Virgilio G. Tuvida
Virgilio G. Tuvida of Yardley, PA died on Tuesday March 30, 2021 at St. Mary Medical Center in Langhorne, PA. He was 84.
Born in the Philippines, son of the late Jose and Concepcion Guarin Tuvida, he resided in Yardley for the past 40 years.
After graduating from college, Virgilio began a career in Engineering at Manila Electric Company (aka Meralco). He came to the United States and worked as a full-time Mechanical Engineer for United Engineers (now Raytheon) and the US Postal Service from which he retired. While retired, he lived with his daughter, son-in-law, and two grandchildren.
Husband of the late Maria Lourdes Jaleco Tuvida, he is survived by his daughter and son-in-law, Lorelei Tuvida Davis and Michael Davis, Jr. of Yardley; two grandchildren, Meghan Davis and Michael Davis, III; three sisters, Leticia (& Antonio) Garulacan, Estela (& Gregorio) Deloria, and Alicia Tuvida; and a brother, Arturo (& Merly) Tuvida.
Friends and family are invited to call from 9am to 10:15am on Thursday April 8th at the FitzGerald-Sommer Funeral Home, 17 S. Delaware Avenue (River Road), Yardley, PA. His funeral Mass will be celebrated at 11am at St. Ignatius of Antioch Church, 999 Reading Avenue in Yardley. Burial will follow at Our Lady of Grace Cemetery, Langhorne, PA.
The funeral service will be live streamed on the Saint Ignatius of Antioch Facebook page at https://facebook.com/St-Ignatius-of-Antioch-Church-1217359028277109/