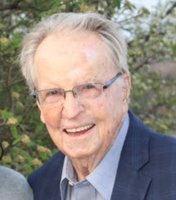 Edward James Mailey
EDWARD JAMES MAILEY
Edward James Mailey, age 94 of Hudson, OH, formerly of Amelia Island, FL and Yardley, PA passed away peacefully on Tuesday, May 11, 2021. Edward was the beloved husband of the late Ann (nee Chrinko); loving father of Brian Mailey, Daniel (Lori) Mailey and Ted (Susan) Mailey; cherished grandfather and super fan of Tess Mailey, Katie Mailey, Bonnie (Ben) Pogorelc and Greg Mailey; great grandfather of Emmett and Ezra Pogorelc; dear brother of the late Jack Mailey and Sr. Mary Helene Mailey; dear uncle of many. Edward was a WWII vet whoproudly served his country in the U.S. Navy. After the Navy, Ed began his career as a repo man and worked his way to Wall Street. He loved to travel with Ann and never missed a golf course along the way. He will be remembered for his sharp wit by the many that he called friends.
Ed was a grateful friend of Bill Wilson for 48 years. He was committed to giving back his experience, strength and hope until the last day of his life. One day at a time.
A Memorial Service to celebrate Edward's life will be held on June 5 at FitzGerald-Sommer Funeral Home 17 S. Delaware Ave Yardley, PA 19067. Calling hours are 12:00-1:00 PM followed by a service from 1:00-2:00 PM. Service will be available via Zoom:
Edward Mailey Memorial Service
Personal Meeting ID: 255 726 3147
Passcode: 1cQh71
Ed will be laid to rest with his wife of 62 years, Ann in a private service. The family suggests memorial contributions be made in Edward's name to Gardens of Western Reserve Hospice 3792 State Rd Cuyahoga Falls, OH 44223.