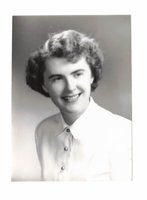 Anne Marie Long
Anne Marie Long of Sun City Center, FL and Yardley, PA.
Anne Marie Flanagan Long died peacefully on June 30, 2021 at her home in Florida, at the age of 92 with her beloved daughter Chris at her bedside.
Born on March 18th, 1929 in Lowell, MA to William and Ella Larkin Flanagan, she went to the University of New Hampshire, graduating in 1950, where she met the love of her life, Charles "Hutch" Long. They were husband and wife for 46 years before he died in 1997.
A truly remarkable young woman, soon after graduation she received a full scholarship to Harvard's Radcliffe School for women but chose to forego that opportunity and instead follow then Air Force LT Charles Long to the Philippines, where he was sent during the Korean War. They lived there until 1954, returning to the US with their newborn son, Stephen.
Starting their life back in the US, first in Pittsburgh then 6 years later, moving to Yardley, PA with US Steel Corp, they built a family with her sons Stephen and James and daughter Chris.
Being a stay at home Mom until her children were well on their way at school, Anne Marie began to pursue advanced education at night with great persistence; culminating in her 2 Masters degrees from the College of New Jersey in Childhood Education and Counseling.
She worked at Princeton University for 20 years as the Assistant Director for Career Planning and Placement, helping many graduates find jobs and careers after college and being a special advocate for women in the financial services field in the 70's and 80's.
Following her husband's passing, Anne Marie made a home for herself in Florida where she enjoyed working as a eucharistic minister and serving her community of Sun City Center. She spent the rest of her time between Florida and the northeast to help raise her daughter's children and stay close to her New England roots.
Anne Marie always had a strong belief in God and the power behind her faith drove her exceptional life as a kind and loving soul for the benefit of all who knew her.
She is survived by her son Stephen and granddaughter Stephanie; her son James and his wife Francie and grandchildren Ryan, Connor and Kerry; her daughter Chris and granddaughters Kat and Colleen; and her sister Judy and her husband Bob. She was predeceased by her brother William.
Her funeral Mass will be celebrated at St Ignatius Church in Yardley, PA at 11am on Wednesday, July 7th. Burial will follow at Thompson Memorial Cemetery, New Hope, PA. Calling hours are Wednesday July 7th from 9:15am to 10:15am at FitzGerald-Sommer Funeral Home, 17 S Delaware Ave, Yardley, PA. A celebration of life will be held in Sun City Center, FL at a later date. In lieu of flowers, donations may be made to LifePath Hospice at 3725 Upper Creek Drive, Ruskin, FL 33573 (https://www.chaptershealth.org/for-volunteers-donors/).