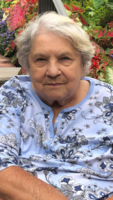 Rose Marie Zorichak
Rose Marie Zorichak
Rose Marie Zorichak, 82, of Hamilton, died peacefully on Sept. 2, 2021 with family at the hospital bedside.
She was born to the late Andrew and Rosalia Krupa on Aug. 29, 1939 in Trenton, NJ.
Rose was a devoted sister to the late Nicholas, Stephen (Shirley), Samuel (Mary Ellen), and Irene Tufano, and is survived by her brother, Michael. She was married to the late Urban Zorichak, and is survived by her children, JoAnn, Rose (Joseph) Schenk, Daniel and Diana. Rose was predeceased by her dear son, Johnny, in 1997.
Others who will miss her encouraging and caring presence are her 7 Grandchildren and 3 Great Grandchildren, 3 grown children who she treasured as their Nanny, as well as many nieces and nephews, and dear friends, with whom she remained close.
Rose was considered the "Rock" of her immediate and extended family. Those who knew her best understood that she was tough and would speak her mind, yet she was tender-hearted, generous, loving and trustworthy. And you could always count on her for a good laugh as well! Rose was a "Jane of all trades" and always worked hard (and smart) no matter what she did. Her jobs ranged from Telephone Operator, Secretary, Certified Nurse's Assistant, Accounts Receivable Supervisor, to Nanny. There was nothing she couldn't handle with care and efficiency. For Rose, everything was "No Problem!"
The Funeral Service for Rose will be Private due to Covid precautions. In lieu of flowers or donations, please pay your kindness forward and make someone smile in honor of Rose Be willing to help another with generosity and random acts of kindness. She would love that!