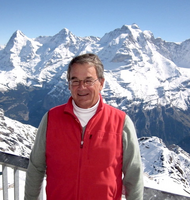 John Pope Maddock
John Pope Maddock
John Pope Maddock of Washington Crossing, PA died of a breakthrough Covid infection on September 2, 2021, at the Salem Hospital in Salem, MA. He was 82.
Born in Trenton, NJ, a son of the late Thomas Maddock and Madeline Pope Maddock. His family founded the Thomas Maddock Pottery Company in Trenton, NJ.
John spent his early years in Washington Crossing until the 1950's when the family moved to Gwynfryn, the family home, in Ewing Township, NJ. He was a graduate of Ewing High School where he played football and participated in the school performance of the American Classic, Our Town, where he met his future wife, Virginia Whitlock. John attended St. Lawrence University where he was an Army ROTC distinguished honors graduate. John and Virginia were married in June of 1960. His active duty was served in Ft. Riley, KS and in Alaska, which remained a vivid memory and source of stories throughout his life.
Upon his discharge from the Army, John began a lifelong career in the printing paper industry by joining Consolidated Paper, followed by Alling & Cory Paper Company, where he spent the majority of his career first in sales and then in a series of senior executive positions. He retired from Sappi Paper in Boston, MA. John conducted business with a remarkable enthusiasm. He loved being a salesman and meeting new people and savored mentoring younger employees along the way.
John's real priorities in life were his family and sharing his passion for travel. He and Virginia traveled extensively, often with children, grandchildren, and dear friends. His favorite places were Wengen, Switzerland in the Lauterbrunnen Valley and Marblehead along Massachusetts' fabled North Shore, where he spent the last 23 magical summers.
John's keen mind, quick wit, and genuine interest in others were defining characteristics. He loved to engage in spirited conversation and debate on a wide range of topics. His grandchildren appropriately called him Coach —- he was a generous listener and an avid supporter of all of their interests and pursuits, which was by far his most treasured characteristic.
John is survived by his wife of 61 years, Virginia Whitlock Maddock; three daughters and sons-in-law, Jane and Alan Good, Anne and Sean Flynn, and Susan and Garret Hinebauch; eight grandchildren, Madeline Good (Ian) Hen-dry, Wyatt Good, Rosalie Good, Charlotte Flynn (Connor) Cunningham, Mal-colm Flynn, Fergus Flynn, Oliver Hinebauch, and Liam Hinebauch; brother, Thomas, and sisters, Jane Back and Elizabeth Crenshaw. He was the brother of the late, James Maddock.
His Episcopal funeral service will be outdoors at 10:30am Tuesday September 21, 2021 at FitzGerald Field adjacent to the FitzGerald-Sommer Funeral Home, 17 S. Delaware Avenue (River Road), Yardley, PA.
Vaccinated family and friends are invited to join us. The service will also be available via Zoom (Meeting ID: 255 726 3147, Passcode: wji4K3), or YouTube by clicking this link: https://youtu.be/UX1p5DvdZcQ
John cared deeply about the education of the underserved. In lieu of flowers, memorial contributions to two schools in Philadelphia where his daughters are active would be appreciated.
St. James School
3217 W. Clearfield Street
Philadelphia, PA 19132
www.stjamesphila.org and click "donate"
The DePaul Catholic School
P.O. Box 37012
Philadelphia, PA 19122
https://depaulphila.imsphila.org/support/donate/