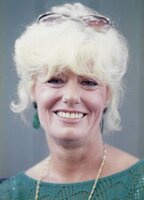 Ruth H. Saxby
Ruth Harris Saxby
Ruth Harris Saxby of Lower Makefield Township, PA passed away on Thursday December 2, 2021, surrounded by her family at the age of 81.
Ruth was the daughter of the late Joseph C. and Lillian Brelsford Harris. She was born and raised on a farm in Lower Makefield with her eleven siblings. She created and owned Charcoal Steaks and Things with her sister Mary Cheeseman from 1971 to 1995.

Ruth married Cliff Saxby in 1979. Their love for one another was undeniable. Ruth and Cliff enjoyed travelling, camping, playing cards, gathering with family, calling to check in with loved ones and reminiscing about childhood adventures. Some of her favorite moments were on the Delaware River watching the bald eagle and at her beach home in Waretown, NJ fishing and swimming with family.
She will join her late sisters, Betty Sayko, Hazel Manness, Joanne Cadwallader, Louise Metzger, Doris Borden and Barbara Wallace.
Ruth is survived by her husband, Clifford Saxby, her sisters Mary Cheeseman and Annie Rusnak, her brothers Charlie Harris, Jimmy Harris and Joseph Harris, brother-in-law, Peter (Linda) Barton, manynieces and nephews and a host of friends. They all have never-ending stories of her wit, wisecracking sense of humor, candor and charm.
Friends and family are invited to call on Wednesday December 8, 2021 from 2pm to 5pm with a funeral service at 5:30pm at the FitzGerald-Sommer Funeral Home, 17 S. Delaware Avenue (River Road), Yardley, PA. Burial will be at 10am on Thursday December 9, 2021at the Washington Crossing National Cemetery, 830 Highland Road, Newtown, PA.