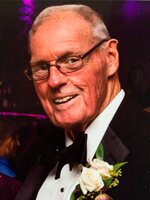 Robert D. "Bob" Hampson
In Memory of Robert Daniel Hampson
1935-2022
Robert D Hampson, 87, of Washington Crossing died on Wednesday, March 30, 2022, at St Mary's Hospital in Newtown, Pa.
Known as "Bob" he was born and raised in Paterson, NJ. Son of the late Robert and Florence Hampson. He formerly resided in Washington Crossing, Pa for the past eleven years.
He is a graduate of Fairleigh Dickinson University, with a BS in Mechanical engineering. He served in the Naval Reserves for nine years. Bob worked for Mobil Oil as an international marketing manager for 37 years. He loved his work and traveling the world with his wife at his side.
He was an active member in his community of "Traditions" located in Washington Crossing Pa. An active member of his church, St Andrews, in Yardley, Pa. A member of the Trenton Ancient order of Hibernians, Division 1.
He was an all-around great guy who loved the sport of baseball and loved his family and friends.
Husband of 67years to Beverly Hunt Hampson, he is survived by his son Robert Darren Hampson, and his daughter in law, Cathy Skeans Hampson. His
daughter and son in law, Robin and Alex Komjati. His brother-in-law Harry Hunt. His granddaughter, Mary Kline and her husband Randy Kline. His step grandson, David Komjati and his wife Laurie Komjati. His step granddaughter Lisa Komjati and her fiancé Jim Hoey. His great grandchildren Sophia Ann Komjati and Adellyn Rae Kline. His cousin Jane Wunner and her husband Richard, and many nieces and nephews.
In lieu of flowers, contributions can be made to St Andrews Church at 47 West Afton Ave, Yardley PA 19067 or the American Heart and Lung Association.
A Memorial Service will be held at St Andrews Church at 11am on Saturday, April 23, 2022. Visitation at the church for family and friends will be from 9:30am to 10:45am. Arrangements are under the care of the FitzGerald-Sommer Funeral Home 17 S. Delaware Ave. Yardley, PA 19067.