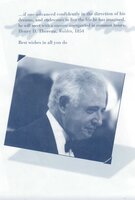 Vincent J. Beninati
Vincent J. Beninati of Lower Makefield Township, PA died on Thursday March 31, 2022. He was 91.
Born in Boston, MA, son of the late Rocco and Mattia Moscato Beninati, he resided in Yardley,Pa for the past 47 years. He was a kind, compassionate man who loved his family and friends.
Vince was a proud graduate of Boston College. He joined the Army during the Korean War and returned to Boston College to receive his Master's Degree. Vince then began a lengthy career in the United Way starting in Erie, PA and moving on to assignments in Carlisle, PA and North Penn before getting promoted to chapters in South Bend, IN and Duchess County, NY. He rose to large regional posts within the United Way of America and the Tri-State United Way in New York City at the end of his career. Vince was extremely skilled in using the United Way approach as a generic fund-raising tool to support a cluster of local nonprofit organizations who needed a regional mechanism to solicit donor funds and volunteer efforts. Vince was called back from retirement by the United Way to lead the North Penn chapter which he helped found earlier in his career.
His talent, energy, commitment, and drive were well suited to helping so many worthy causes.
Husband of the late Germaine M. Beninati, he is survived by three daughters, Lisa Farrell and her husband, Dennis, of Morrisville, PA, Christine Beninati and her partner, Bill Halloran, of Ringoes, NJ, and Susan Westmoreland and her husband, Justin, of Fort Lupton, CO. Also surviving are three grandchildren, Lindsay Farrell and her husband, Ian, Kelsey Farrell, and Sierra Westmoreland, and two great grandchildren, Holland Nicholson and Malcolm Nicholson.
Friends are invited to call on Monday June 6, 2022, from 11:00 to 12:00 at the FitzGerald-Sommer Funeral Home, 17 S. Delaware Avenue (River Road), Yardley, PA. Interment will be on Tuesday June 7, 2022 at 2pm at the Washington Crossing National Cemetery, 830 Highland Road, Newtown, PA.
In lieu of flowers, memorial contributions may be made in his name to your local United Way office. Contributions to Alzheimer Association would also be appreciated.