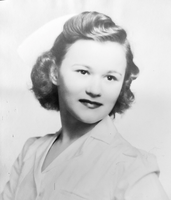 Loretta Narwicz Bessette
Loretta Barbara Krasnopolski Narwicz Bessette
On June 5th, 2022, loving mother and grandmother passed away at the age of 95 yrs old.
Born in Brooklyn, NY to Kazimierz and Stella Krasnopolksi in 1926, and last resided in Yardley, Pennsylvania.
Those left to cherish her memory are children Susan Narwicz Sherwood, Charles Narwicz Jr. (Lee Peabody), John P. Narwicz (Karen Pendry), Laura Narwicz, and Christina Narwicz. Grandchildren Loretta Jane, Samuel, Jeannette, Charles, Elizabeth and Adam. Great grandchildren, Sakai, Sea Jane, Granger, Atlas and Kai'enalani, along with her sister Madeline Loewenthal and many nieces and nephews. Preceded in death by her husbands' Charles A Narwicz and Donald Bessette.
Loretta received her Registered Nurse degree from Kings County Hospital and was a member of the US Cadet Nurse Corps. Her nursing career ended with her retirement from theVeteran's Administration. She resided in Greenlawn, NY and Vero Beach, FL. Loretta cherished her time with her family. She was a master watercolorist and a member of the Artist's Guild in Vero Beach. She enjoyed gardening, tennis, swimming and loved going to the beach.
The funeral Mass will be celebrated on Monday, July 25, 2022at 10:30am at St John the Evangelist Catholic Church 752 Big Oak Road, Yardley, PA, followed by a celebration of life there. Live Streaming of the service will be available at the Church's website in its "Today's Mass" tab under the heading "Live Stream Mass".
Arrangements are under the care of the FitzGerald-Sommer Funeral Home 17 S. Delaware Ave. Yardley, PA 19067.