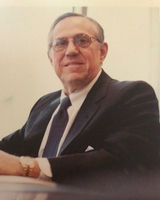 Bernard Russell Formidoni
Bernard Russell Formidoni
Bernard Russell Formidoni of Lower Makefield Township, PA died peacefully on Friday, April 28, 2023. He was 82 years old.
Russ was the beloved husband of Susan Ryan and the son of the late Roland and Mildred Amodio Formidoni of Trenton, NJ.
In addition to his wife, he is survived by his children and their spouses, Karen Robbins and Michael Epstein, Mollie and Matthew Colavita, and stepsons, Grant and Robert Fessler; his grandchildren, Harrison Russell Epstein, and Aidan, Nicholas and Isabella Colavita; his brothers and sisters-in-laws, Roland R. and Lynn Formidoni of Titusville, NJ, and Roger and Virginia Formidoni of Claremont, NH; along with many nieces and nephews whom he loved dearly.
Russ graduated from The Lawrenceville School, Class of 1959, and Brown University, Class of 1963. He began his career with IBM before joining Merrill Lynch as a financial advisor and, in later years, managed UBS's offices in Princeton, NJ and Newtown, PA where he served as a mentor and sponsor to many. An avid golfer, Russ grew up at the Trenton Country Club where he served two terms as a Director and claimed to hold the record for the longest drive on the fourth hole. He enjoyed summers at their home in Harvey Cedars, Long Beach Island, NJ creating lasting memories with his grandkids, extended family and friends. He contributed his time and efforts to the Boys' Club of Trenton.
Interment will be held privately for the family.
The family will host a gathering for friends on Sunday, May 21, 2023, from 3:00pm to 5:00pm at the Nassau Inn, 10 Palmer Square, Princeton, NJ 08542.
In lieu of flowers, contributions may be made in his name to The High Point Volunteer Fire Company, Station 51 in Harvey Cedars, NJ at www.hpvfc.com.