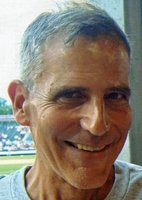 Arnold K. Gash
Arnold Kopple Gash, MD of Lower Makefield Township, PA died on Sunday June 18, 2017 at Chandler Hall Hospice in Newtown, PA. He was 70.
Beloved husband to Nancy and father to Andrew, Abby, Aaron, Celia; brother of Elaine Mead, and son of the late Henry and Bertha Gash of Philadelphia, PA. Also, survived by two grandchildren.
He attended Central High School, graduated 1964, and received a bachelor of
Science degree in Mathematics from Temple University in 1968.
Arnold earned his medical degree from Temple University School of Medicine in
1972 and completed his medical residency at Temple University Hospital in 1975.
Dr. Gash served his Cardiology Fellowship at University of California Medical Center, San Diego, CA 1975-1977.
Dr. Gash was commissioned as a Major in the Air Force and served on active duty from 1977-1979 and reserve duty 1979-1984.
After serving in the military, Dr. Gash was appointed Assistant Professor of Medicine,
Temple University School of Medicine 1979-1983. And Associate Professor of
Medicine 1983-1987.
From 1987-1992 he worked in Private Practice Cardiology, in the Philadelphia area
From 1992 – 1995 Dr. Gash was an Associate Professor of Medicine at Hahnemann
University Hospital in the heart Failure and Transplant Unit.
From 1995 – 2006 he again worked in Private Practice Clinical Practice of Medicine
In 2006 he returned to Temple University Hospital School of Medicine where he served as Clinical Associate Professor of Medicine until his retirement in 2010.
Funeral services will be at 10am Friday at the FitzGerald-Sommer Funeral Home, 17 S. Delaware Avenue (River Road), Yardley, PA. Burial will follow at Union Cemetery in Richboro, PA.
In lieu of flowers, please send a donation to Fox Chase Cancer Center, 333 Cottman Avenue, Philadelphia, PA 19111.