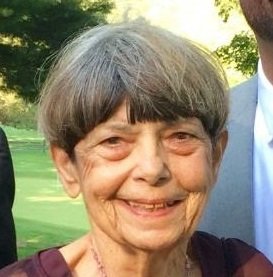 Obituary of Joan Daley
Joan Veronica (Meehan) Daley of Morrisville, PA died on Sunday December 10, 2017 at Capital Health Regional Medical Center in Trenton, NJ. She was 84.
Born at the height of the Great Depression in Brooklyn, NY, which instilled, no doubt, her lifelong mantra and pursuit of frugality. She moved to Enfield, CT. in 1960 where she raised her three children, retiring to Naples, FL in 1987, and more recently Tampa, FL, and Charlotte, NC, before settling in Morrisville six months ago.
Joan was a homemaker, who enjoyed sewing, playing golf and bridge, and cooking. She had been a member of the Enfield Women's Club, Bridge Club, and the Enfield Garden Club. Prior to her life-long marriage to Martin J. Daley (who pre-deceased Joan) Joan, after graduating from high school, attended college and was employed doing clerical work in a multi-story office building overlooking Battery Park in far lower Manhattan. It did not pay much, but with a million-dollar-view of New York harbor and the Statue of Liberty provided at least one benefit so it couldn't have been all bad. Later, she worked extensive stints in Enfield as a Kelly-Girl, at the Hallmark Cards distribution center, and even a turn as an aid at Enfield H.S. Her children attended Enrico Fermi H.S. saving them the conflict.
Daughter of the late Edward Meehan and Eleanor Cassella Meehan, and grandmother of the late Sean Daley, (Edward) she is survived by three children, Edward and his spouse Kimberly Daley; Joanne and her spouse Hal Gastler, and James Daley and his fiance Fernando Manfredi; three grandchildren, Jennifer Gastler Chan and her spouse Will Chan, Christine Gastler Maroney and her spouse Rob Maroney, (both Joanne and Hal) and Michael Daley, (Edward and Kim) and three great grandchildren, Zoie, Brayden, (both Jennifer and Will) and her newest descendant, Sawyer (Christine and Rob).
Family and friends are invited to call from 6pm to 8pm Wednesday at the FitzGerald-Sommer Funeral Home, 17 S. Delaware Avenue (River Road, Yardley, PA.
A Celebration of Joan's Life is being planned for Tampa after the New Year, final time and place?details are being determined.