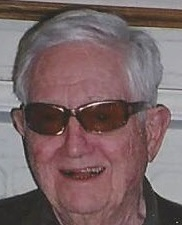 Obituary of Thomas Delate
Thomas Edward Delate, of Yardley PA died at Manor Care Nursing Home surrounded by his family on June 14, 2018. He was 100 and half years old.
Thomas is survived by his wife, Paula Delate, his children, Peter Delate, Michael Delate, John Delate, Laura Miller, and Elizabeth Ugalde-Delate; and his eight grandchildren, Belinda, Mathew, Christopher, John Jr., Christina, Ashley, Connor and Patrick, and six great grandchildren. Michael, John, Becca, Ben, Liv, and Kehley. He is preceded in death by his children, Timothy Delate and Drucilla Mantle, his parents, Edward and Mary Delate, and his sisters, Helen Barber and Constance Polk and brothers Edward and Gregory Delate.
Tom was born on December 12, 1917 at 306 Center Street in Trenton, NJ. He was raised in Sacred Heart Parish in Trenton, NJ. Attended St. John Grammar School (Sacred Heart Parish), graduated from Cathedral High School in 1935, and received a scholarship to Villanova and graduated 1939 AB, Admitted to practice law in New York and Pennsylvania, J.D. Fordham U Law School in 1949, and LL.M. in Taxation at New York Law School graduating in 1951.
Served 7 ½ years in the US Navy during WWII and Korea as a line officer and received the US Commendation Medal and Russian order of the Red Star. He spent 5 years with US Internal Revenue service, 27 years with Exxon Corporation Tax department and retired in 1982. While with Exxon he spent seven years in Venezuela and six in Libya. He taught at Auburn University. Volunteered and worked various jobs in Bucks County, was an avid tennis and bridge player until he was 80 and spent time in Naples and Bonita Springs, FL.
Friends and family are invited to call from 5pm to 8pm on Sunday June 24th at the FitzGerald-Sommer Funeral Home, 17 S. Delaware Avenue (River), Yardley, PA. Interment will be at 10:30am Tuesday June 26th at the Washington Crossing National Cemetery, 830 Highland Road, Newtown, PA.
The procession to the Washington Crossing National Cemetery will depart Tuesday from FitzGerald-Sommer Funeral Home at 9:45am.
All are welcome to attend and celebrate Tom's life.
In lieu of flowers, donations may be made to the Wounded Warrior Project, PO Box 758517, Topeka, KS 66675.