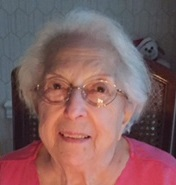 Obituary of Frances DeCaprio
Frances DeCaprio of Lower Makefield Township, PA died on Thursday July 5, 2018 at her home with her family. She was 88.
Born in Plainfield, NJ, daughter of the late Domenick and Anna Ronzo Santonastaso, and formerly of Bethany, CT, she had resided in Lower Makefield for the past 19 years.
A graduate of the Somerset Hospital Nursing School, Frances devoted her energy and talents to being a homemaker and an active volunteer in her Church's charitable activities. For many years. she participated in the Aid For
Friends efforts at St. Ignatius Parish and parish activities at Saint Andrew's Catholic Church in Newtown.
Frances was the wife of the late Frank DeCaprio and mother of the late Mark DeCaprio, she is survived by her daughter Linda DeCaprio; two sons, Frank DeCaprio, Jr. , and David and Mary DeCaprio; daughter-in-law, Jackie DeCaprio; four grandchildren Christina, Michael, Elizabeth, and Thi Xuan, and two great grandchildren, Layla and Liam DeCaprio.
Her Funeral Mass will be celebrated at 11am Tuesday at St. Andrew Catholic Church, 81 Swamp Road, Newtown, PA, where friends may call from 10am.
In lieu of flowers, contributions may be made to charity of one's choice.