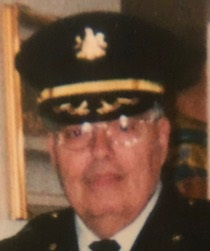 Obituary of James J. O'Neill
James J. O'Neill of Yardley, PA passed away on Saturday September 8 , 2018 at St. Mary Medical Center in Langhorne, PA. He was 69.
Born in Philadelphia, PA, son of the late James and Hannah Cunius O'Neill, he resided in Yardley for the past 27 years.
Chief O'Neill was devoted to his family and, with his family, participated in community and church based activities with enthusiasm.
After his Army service, Chief O'Neill's career began with his training at Pennsylvania's Police Academy in Hershey, PA and his appointment as a Police Officer in Middletown Township in 1981. He later joined the Upper Makefield Police Department. From there, he became a member of the Yardley Borough Police Department in 1985. He rose through the ranks of the Yardley Police Department and was appointed Chief in 2000. His tenure included enforcing "person friendly" speed limits which help sustain Yardley's quality of life. Of lasting note was his handling of three major floods of the Delaware River with extraordinary skill and care for real public safety. The way Yardley coordinated with all of the various agencies involved in the floods and their aftermath was exemplary.
Chief O'Neill was active in professional associations: the Bucks County Fraternal Order of Police, the Bucks County Chiefs of Police, the Southeastern Pennsylvania Chiefs of Police and the International Chiefs of Police. The Chief
lent his active support to these organizations. He served for two years as President of the Bucks County Chiefs of Police.
Chief O'Neill's family was most appreciative of the support and kindness of the Yardley Police Department, the Borough Council and staff, Mayor Harding and the local business community during his illness. Special thanks are extended to Chief Joseph Kelly.
He is survived by his wife, Teresa "Terri" O'Neill; a son, Michael Martell; a daughter and son-in-law, Lisa and Scott Harkins; his brother, Joseph O'Neill, and three grandchildren, Casey and Lindsey Harkins, and James Michael Francis Martell.
His Funeral Mass will be celebrated at 11am Monday September 17th at St. Ignatius Church, 999 Reading Avenue, Yardley. Burial will follow at Resurrection Cemetery in Bensalem, PA. Friends may call from 4pm to 8pm Sunday at the FitzGerald-Sommer Funeral Home, 17 S. Delaware Avenue (River Road), Yardley, PA.