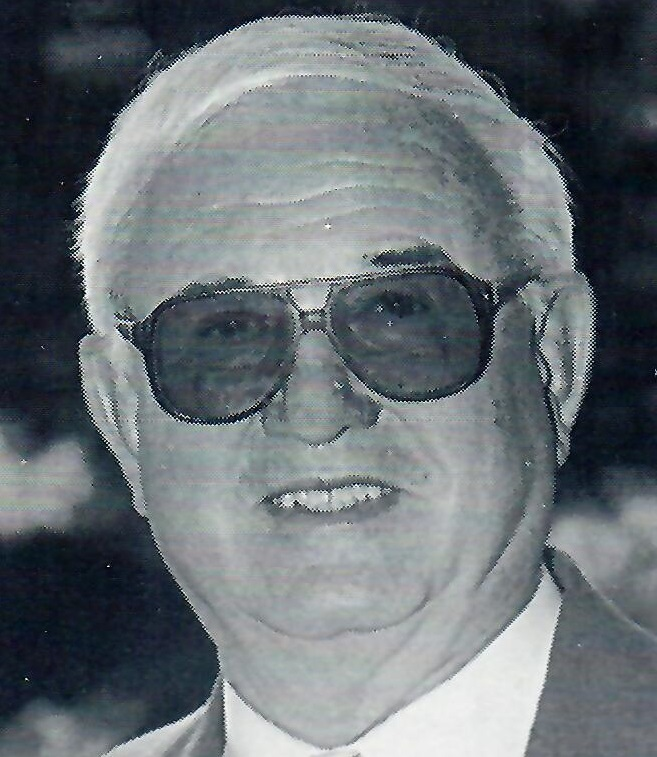 Obituary of Robert A. Lang
Local Businessman and a Strong Community Advocate
Robert A. Lang (Bob) passed away at his home in Yardley on October 15, 2018. He was 99. Bob was born on the family farm near Haycock Mountain, Bucks County, in 1919.
At 17 he moved to Yardley and lived with his sister. Soon after moving he obtained a job with Skillman Hardware. While at Skillman Hardware he learned to repair radios and then worked in the radio business. He became so interested in developing his knowledge that he enrolled in classes at Trenton Technical School (now Thomas Edison State College) on West State Street. His next employment was at The John A. Roebling Company where he worked on improving advanced welding machines.
Bob's technical improvements allowed Roebling to expand from 30 to over 400 of those machines while he was there. During World War II, Bob served in the Navy from 1943 and 1946. He was stationed in San Diego and assigned to Fire Control Systems, working on Radar directed Gunnery Targeting aboard warships. This technological innovation was a component of victory in the war in the Pacific.
After Bob's World War II service, instead of returning to Roebling, he started his first business, a radio repair store on Stuyvesant Avenue in Trenton. In 1948, Bob moved to Yardley and opened an appliance store on Afton Avenue. The business was moved to South Broad Street in Trenton where it became Bob Lang Appliances in 1951. Through a family passion, 1966 saw the opening of Lang's Ski n' Sport. Today, son, Bob, owns and operates Lang's Ski 'N Scuba with locations in Ewing and Newtown. Bob Lang Appliances took a new direction in 1985 under the creative inspiration and direction of son, John, and became Lang's Kitchen and Bath, originally in Hamilton and presently in Newtown, PA.
Mr. Lang spent a lot of time as a community advocate. As an active member of St. Ignatius Church in Yardley, he led the parish planning and building development of the then new church on Reading Avenue. As with St. Ignatius, he served as an original member of the Search, Development and Construction Committee for Grey Nun Academy.
Mr. Lang, also worked with the Boys Club of Trenton (today, The Boys and Girls Club) where he was a member of the Board for over 25 years and served as President for part of that time. Mr. Lang took a very energetic and active roll serving on the Board of Trustees for AAA of Central NJ. During the 26 years at AAA he guided and directed the Board for three years as Chairman.
Bob's most recent endeavor was as a member of the Board of Friends of the Delaware Canal. Because of his dedication to the project and with the help of his wife, Lynn, Bob was able to raise valuable funds necessary for the maintenance and planned projects for the Canal.
Mr. Lang was a 60-year member of Trenton Country Club where he developed lifelong friendships.
Son of the late Joseph and Theresa Lang ( originally from Budapest, Hungary ) and later from Bucks County and Philadelphia, Mr. Lang was predeceased by his wife, Barbara Worthington Lang; his daughter, M. Sherlene Wherry; and two sisters, Lillian Harney and Valentina King.
He is survived by his wife of thirty years, E. Lynette Lang; his daughter Barbara McMahon and Tom of Lake Frederick, VA; two sons, Robert W. Lang and Marianne of Newtown; John A. Lang and Jennifer, of Newtown; stepchildren, Elizabeth Sims of Juneau, Alaska; Thomas Sims of Morrisville, Richard Sims and Chyrell of Hamilton; as well as numerous nieces and nephews. He was blessed with nine grandchildren and eight great grandchildren.
To Bob's many relatives and friends, his wife Lynn, and children, request prayers for Peace and to enjoy a healthy Toast of Southern Comfort (on ice) in his memory.
Friends are invited to call on Sunday, October 21st from 6:00pm to 8:00pm at FitzGerald- Sommer Funeral Home, 17 S. Delaware Avenue (River Road), Yardley PA.
His Funeral Mass will be celebrated at 11am Monday at St. Ignatius Church, 999 Reading Avenue, Yardley. Burial will follow at St. Ignatius Cemetery, Yardley.
The Family suggests donations in his Mr. Lang's memory to; Friends of the Delaware Canal, 145 S. Main St., New Hope, PA 18938 or The Boys and Girls Club of Trenton, 212 Centre St., Trenton, NJ 18938.