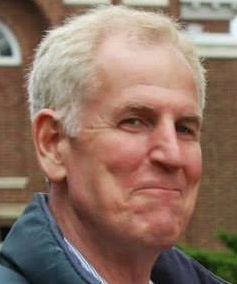 Obituary of Robert Moonan
Robert J Moonan Jr. died November 2, 2018 after a long and courageous battle with cancer. Raised in Yardley, PA he was the son of Robert J Moonan Sr and Joan Moonan-Hackman. He is survived by his wife of 30 years, Mary Jane; daughters Megan (Seth) and Kaity; and grandsons Logan, Jack and Will; six siblings, their spouses and 20 nieces and nephews.
Bob is a graduate of St. John the Evangelist Elementary School, Bishop Egan High School and Southern Connecticut State University, where he pursued his life-long passion of basketball. Bob was a special education teacher for the State of Connecticut for 15 years and then joined the family business, The Hibbert Group. Bob represented the best in all of us as a husband, father, grandfather, friend, employee and human being. He used all of his strength to continue working as long as he possibly could, truly showing all of us what commitment is all about.
Bob started the Philadelphia Chapter of the Jimmy V Foundation for Cancer Research where he integrated his love of family, friends and basketball. For the past 15 years, the Philadelphia Friends of Jimmy V celebrated Four Special Days of CYO basketball at the St. John the Evangelist Parish Center. This fundraising event brought the local community together to create awareness for the need and positive impacts of cancer research in a fun, stress-free environment. These Four Special Days teach kids how to laugh, think, cry…and never give up.
Bob's love of family and friends dominated every aspect of his life. He created an annual bodysurfing competition for family members at the Jersey Shore. Bob was the self-appointed judge of the competition…and he happened to win the trophy every year…
If you knew Bob…you loved him. He made you feel like the most important person on Earth. We will remember his smile, his humor, and his selflessness. He made us all better just by being himself. Cancer may have taken away Bob's physical abilities…but it did not touch his mind, did not touch his heart, and did not touch his soul…those three things will be carried on forever.
Bob's family and friends are invited to his viewing from 9:00 to 11:45 AM on Tuesday, Nov. 6, at St. John the Evangelist Church, 752 Big Oak Rd., Morrisville, PA 19067. A funeral mass will follow at 12 P.M.
Burial at St. Mary's Cemetery, Hamilton Twp., NJ.
In lieu of flowers, memorials in his name can be made to the Philadelphia Friends of V, 12 Oakdale Blvd, Morrisville, PA 19067 or at www.phillyfriendsofv.org.