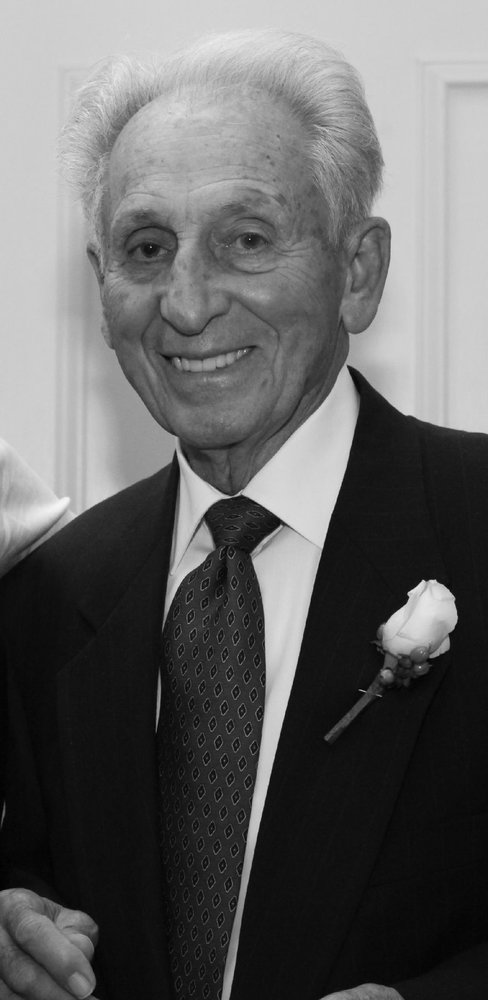 Obituary of Joseph S. Agnello
Please share a memory of Joseph to include in a keepsake book for family and friends.
Joseph S. Agnello
Joseph S. Agnello of Upper Makefield Township, PA died on Thursday, January 28, 2021 at Chandler Hall Hospice in Newtown, PA. He was 97.
Born in Patterson, NJ, he was the son of the late Salvatore and Antonina Ferraro Agnello.
Joe was a proud World War II veteran who received a Purple Heart and Victory Medal for his service. In June 1943, after studying two years of engineering at Newark College of Engineering (NCE), he was called to active duty and assigned to the 84th Army Infantry Division of the US Army. Joe's battalion landed in France on Omaha Beach and was then loaded onto British trucks headed for Germany. As he described it, artillery was booming all around and his entire squad of 200 soldiers was either killed or wounded in their first assault. Joe was shot and injured and ultimately listed as MIA when accidently assigned to a different unit other than his own at the aid station. After 3 weeks of recovery, his MIA status was rectified. With the Battle of the Bulge well underway the Army needed reinforcements and Joe's wounded shoulder did not keep him out of action for very long; he returned to the front-line for combat.
Upon returning home, he completed his engineering education and graduated from NCE in 1947 where he received his Bachelor of Science. He college sweetheart, Palma Avillion, accepted his proposal of marriage the same year. Many years later he received his Master's degree in Mechanical Engineering from NCE (now the NJ Institute of Technology).
Joe had a long career with the US Navy as a civilian mechanical engineer. In 1969, filled with a dream of owning their own business and the love of tennis, Joe and Palma bought 13 acres in what was then mostly undeveloped Upper Makefield. They built two tennis courts and created small onsite living quarters for their family of four children. The business, Bucks County Racquet Club, operated as a family enterprise with his wife and 3 of their children running the daily operations. At the same time, Joe continued to work his full-time engineering job until he officially retired in 1987. At that time, he joined the tennis club full-time. BCRC was one of Joe's proudest achievements.
Fifty-one years later, three generations of Agnello's have operated the club and it has grown to include 11 tennis courts, a full service pro shop and teaching academy. Joe and Palma championed many philanthropic charities throughout the years at the facility. They were the recipients of several prestigious awards in the industry including Best Tennis club in Bucks County.
In addition to Joe's academic and business achievements, he was an enthusiastic athlete who played tennis weekly and skied every winter from the 1950's to present. He was an avid ballroom dancer since the 1980's and regularly walked and lifted weights until recently. He believed that fitness and healthy eating habits were the secret to longevity and walked the talk.
Father of the late Joseph Agnello, Jr., MD, he is survived by his wife, Palma Avillion Agnello; two sons, Robert Agnello and his husband, Russell Drisch, and Mark Agnello; Daughter and son-in-law, Donna and Mark Delucia; six grandchildren, Gabriel Agnello, Ph.D. and wife Stacey Sturick, Anthony Agnello and wife Katherine Donohue-Agnello, Antonina Delucia, Kara Delucia, Courtney Agnello, and Aiden Agnello, and two great grandchildren, Layne and Lyra.
A graveside service will be held at the Washington Crossing National Cemetery, Newtown, PA on Wednesday, April 7, 2021 at 10:30am. The family requests any donations be made in Joseph's memory to the Wounded Warrior Project.