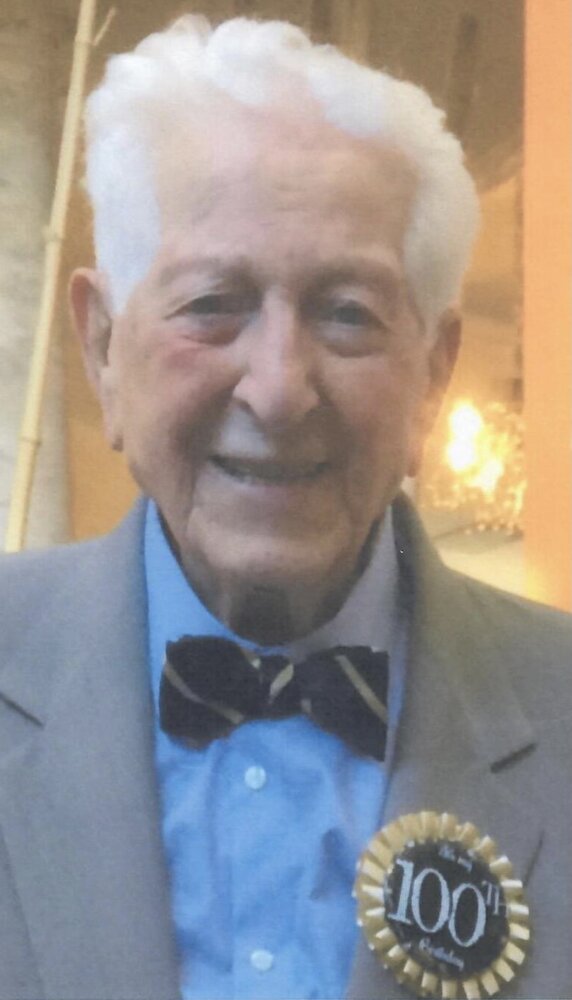 Obituary of Thomas Rossi
Please share a memory of Thomas to include in a keepsake book for family and friends.
Thomas (Gaetano) Rossi of Yardley, PA formerly of Newark, NJ passed away at home surrounded by his family on December 31, 2021. He was 102 years old.
Born in the "North Ward" of Newark, NJ, on October 18, 1919, he resided there until 1999. He lived in Franklin Park, NJ until 2005 and spent the rest of his life in Yardley, PA.
On December 8, 1941, the day after the attack on Pearl Harbor, Tom joined the U.S. Army. Soon after boot camp, because of his Italian heritage, he was asked to volunteer for a new secretive unit designed to infiltrate deep behind enemy lines by land, sea,or air, to organize partisan forces and conduct sabotage missions in Nazi occupied North Africa, Corsica and Italy. Designated the 2671st Special Reconnaissance Battalion of the Office of Strategic Services (OSS) the unit would perform some of the most daring missions of the war and are the forerunners of today's CIA and U.S. Army Special Forces (Green Berets) a unit Tom's nephew Francesco would later serve with on numerous combat tours in support of the War on Terror. In 2017, the OSS Operational Groups (OG's), nick named "Donovan's Devils" after their famous founder, General "Wild Bill" Donovan was finally formally recognized for their heroic achievements with the awarding of the U.S. Congressional Gold Medal.
https://philadelphia.cbslocal.com/2018/09/21/bucks-county-world-war-ii-veteran-given-highest-congressional-honor/?amp
https://m.facebook.com/SenSantarsiero/videos/recognizing-tsgt-rossi-on-the -floor-of-the-senate/1556328927850594
https://fitzpatrick.house.gov/_cache/files/a/6/a66c7bb7-275a-49e0-84a2-fd5aa3a09020/ CBD13695F645058FE5FC36FCFE8137C3.thomas-rossi-story.pdf
Tom is also honored for being a veteran at the Lower Makefield Township Veteran's Square "Wall of Honor" www.veteranssquare.org
Immediately after the war, on August 19, 1945, Tom met the love of his life Joanne (Jennie Grimaldi) at his cousin's wedding. It was love at first sight. They were married on September 29, 1946.
Tom continued his education after getting married and graduated from Rutgers University on June 9, 1954, with a Degree in History. Tom worked at the Veterans Administration until getting a job and spending the rest of his Civil Service career atthe Social Security Administration (SSA). Upon retiring from the SSA on January 1, 1983, as the Assistant Manager of the Jersey City, NJ office after over 40 years of service, he worked at the Prudential Insurance Company as a Claims Examiner.
Tom, loved the outdoors, especially hiking and camping. He was introduced to camping as a boy scout and continued camping until 2019. Tom's favorite place to camp was High Point State Park in New Jersey. Tom enjoyed many vacations there with his family. He passed this love down to many of his relatives and friends who are still faithfully carrying the torch.
Tom was an Honorary Life Member (55 years) of the Knights of Columbus, Council's 5185 (Our Lady of Fatima) and 7515 (St. John The Evangelist). He recently received the Knights of Columbus, St. John Neumann 4th Degree, Assembly 933, Honors for the year 2021. He was an example of exemplary service to God, Church and Country. https://www.youtube.com/watch?app=desktop&v=UhISL1_ZK6Y
Tom was an avid musician. His father taught him how to play the mandolin at an early age. Whenever family visited, they always brought along their instruments. There are many memories of them playing and singing together and enjoying the music they made. Tom inspired his great nephew Ryan to play the mandolin. They would be an adorable duo whenever they played together. The music the family made will live on forever.
Tom was predeceased by his loving wife Joanne (Giovanna/Jennie). He was the devoted father of Joanne, Thomas, Phyllis and Carole. He was the son of Gaetana Rossi (nee Molinaro) and Cosimo Rossi and was preceded in death byhis siblings, Felecina, Willliam (Pelligrino), Felecina (Vi) Radice, Angelamaria, (Mary) Pagliaroli, Filomina (Mina), Cosimo (Gus), Francesco and Mario.
Tom was the loving grandfather of Kristin (his pal), Justin, Marc, Thomas, Michael and Brianna (Bree); Great Grandfather of Justin (JT), Brady, Ava, Brayden, Logan, Alexa and Kellan; A loving Father-In-Law, Knights of Columbus and Veterans of Foreign War partner, William (Guglielmo), Uncle and Great Uncle (Zio) to many nieces and nephews including, Master Sergeant Francesco Rossi, who followed in his uncle's footsteps by joining the U.S. ARMY Green Berets and Goddaughter Patricia Carnevale.
The viewing will be held at the FitzGerald-Sommer Funeral Home, 17 S. Delaware Avenue, Yardley, PA. 19067, Wednesday, January 5, 2022, from 2:00 pm until 6:00 pm The funeral will be held from the FitzGerald-Sommer Funeral Home at 9:00 amThursday, January 6, 2022, followed by a Funeral Mass,celebrated at St. John The Evangelist Church, 752, Big Oak Road, Morrisville, PA. at 10:00. Burial will follow at Holy Cross Cemetery & Mausoleum 340 Ridge Road North Arlington, NJ 07031.