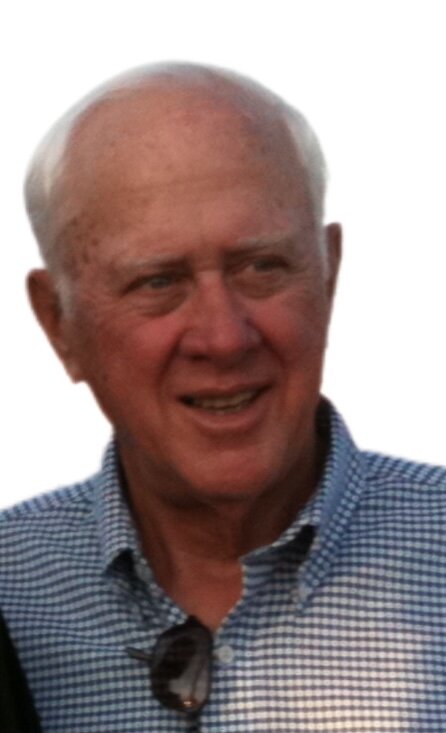 Obituary of Arthur E. Mayhew
Please share a memory of Arthur to include in a keepsake book for family and friends.
​Former Bucks County Courier Times Publisher, Arthur E. Mayhew of Lower Makefield, passed away peacefully with his loving wife, Carol, at his side on January 20, 2022. He was 84years old.
​Born in Amarillo, TX , he was the son of the late Aaron Lee Mayhew and Irene Kreis Mayhew. He graduated from Midland (TX) High School in 1956 and from Texas Technological College (now Texas Tech University) in 1960 with a B.A. in Journalism. Arthur, (despite his move to PA) was forever a Texan and had a long-standing love for his college alma mater as well as his beloved Dallas Cowboys football team; his favorite overused line ("How bout' them Cowboys?") and country and western music, although admittedly he always said he "couldn't carry a tune in a bucket."
Arthur dedicated his life to the field of journalism starting his successful career at his hometown newspaper, The Midland Reporter-Telegram, and the Pampa (TX) Daily News before moving to Pennsylvania in 1961. Hired as a reporter at the Delaware County (PA) Daily Times, he quickly worked his way up to Executive Editor before leaving in 1975 to join the American Press Institute (API), a newspaper training center in Reston, VA, where he facilitated newspaper training seminars dedicated to the continuing education and training of newspaper colleagues in the U.S. and Canada.
In 1978, he left API to become Publisher of the Beaver County (PA) Times, part of Calkins Media. He moved to the Courier Times in 1984 as Publisher. Known at the Courier fornot only his ability to manage a successful newspaper business, but also for his friendly and caring demeanor, as he routinelygreeted each of the 150+ employees by name. He alwaysremembered birthdays and acknowledged others' accomplishments and celebrations with a signed card. Always a champion and supporter of others, Arthur was instrumental in helping many achieve their career goals as a mentor. He remained as Publisher of the Bucks County Courier Times until his retirement in July, 2003.
​Although retired, Arthur continued his passionate work in journalism and bringing people together over the years throughhis continued involvement in various civic and church activities, including the United Way in both Beaver and Bucks counties; Vita Education Services, the lead literacy program in Bucks County; the Beaver County and Lower Bucks County Chambersof Commerce; SchoolWorks!, a Lower Bucks Chamber-initiated effort to bring schools and businesses closer together; the Bristol Riverside Theater; the Delaware Valley Philharmonic Orchestra; and St. Andrews Episcopal Church in Yardley.
​He served two terms as President of the Pennsylvania Newspaper Association Foundation, the educational arm of the state newspaper association. He was chair of the foundation's Diversity Committee, which was one of the first of its kind in the country. Its ongoing goal was to increase diversity in all departments within a newspaper.
​He was former President of the Pennsylvania Society of Newspaper Editors. As President, he helped rewrite the state's public meeting law. He also served as President of the United Press International Editors Association and was a former member of the Newspaper Association of America, the American Society of Newspaper Editors and the Associated Press Managing Editors Association.
​In 2004, Arthur was presented the award for Outstanding Alumni of the Texas Tech College of Mass Communications, an exclusive honor bestowed on alumni, recognizing excellence and contributions in the field of communications.
​In retirement, Arthur became interested in genealogy and always in pursuit of a good story, his research led him to new travel destinations and meetings with newfound relatives. In 2012, he was inducted into the Sons of the American Revolution.
​Arthur deeply loved and cared for his family. He was a man of great character, wisdom, and integrity, with an unmatched sense of humor. "Pop-Art" doted on his eight grandchildren and they all held a special place in his heart.
He is survived by his wife, Carol Mayhew, of Yardley; a son, Scott, and his wife, Jill, and their three children, Emily, Andrew and Ryan Mayhew, of Perkasie; a daughter, Melissa Mayhew,and her daughter, Niamh Mayhew, of Irvine, CA; step-daughter,Kristi Evans, and her fiancé, Mike Miller, of Newtown, and her two children, John Evans, of Yardley and Julie Evans, of Morrisville; stepdaughter, Jamie Callahan, her husband, Bob, and their two children, Leah and Sam Callahan of Yardley; andstep-daughter, Laine Mann, of Yardley. A son, Ross, passedaway in 1986.
​His presence on earth will be missed, but we rejoice in knowing that he is watching over us from heaven.
A celebration of life will be scheduled by the family at a later date due to the pandemic. Please check back on the FitzGerald Sommer Funeral Home website for updated arrangements.
​In lieu of flowers, Arthur had requested that memorial contributions be sent to Vita Education Services, 8 East Court St., Doylestown, PA 18901, or a charity of your choice.