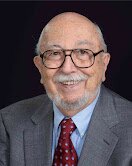 Obituary of Ralph Samuel Miller
Please share a memory of Ralph to include in a keepsake book for family and friends.
Ralph Samuel Miller, born August 23, 1934 and died on June 23, 2022. He was the beloved husband of 43 years to Laura Miller (nee Teixeira); loving and devoted father of Stephanie and Christopher; dearest grandfather of Olivia; dear brother of Doris (Fred) and Wilma; son of William and Grace (both deceased); also loving father of Robert, Kirsten and Bradford; and dear uncle, cousin, and friend of many.
Ralph was a man of the world with an adventurous and do-it-yourself spirit. His travels started with his deeply cherished time in the Navy during the Korean War; his service took him all over the world and included a cross into the Arctic on a destroyer (one of his favorite stories). He later graduated from the Wharton School of the University of Pennsylvania, Class of 1963, in Economics. After graduation, he spent three months traveling all over Europe, from north to south, in a black Volkswagen Beetle he purchased in Germany. He lived and worked for a time in Puerto Rico and Peru, before finding a job as the international audit manager with TRW. One fateful business trip landed him in Rio de Janeiro, carpooling with a friend and his friend, Laura, who would soon become the love of his life. Ralph and Laura married and moved to Cleveland, OH. Brazil continued to call and upon retiring in 1990, Ralph and family moved to Brazil, living for a time in Sao Paulo, Campinas and, ultimately, Florianopolis. There Ralph taught private English lessons and translated documents for companies and universities from Portuguese to English. He loved driving around in his vintage 1970 mint green Volkswagen Beetle and wearing his desert storm cargo pants. He loved to read and would spend many hours sitting on the beach (in his cargo pants, socks and sneakers, button down shirt, and Navy cap) reading while his children played. He loved animals and animals loved him, he was a favorite of the 8 dogs, one sheep, 9 birds, and three cats that found their home with him throughout the years. In 2008, Ralph and Laura moved again this time to Lenoir, NC. It was "a small town at the foot of the mountains with springtime weather year-round," Ralph said. But adventure called one more time and Ralph and Laura spent a year living in Cuenca, Ecuador (over 8,500' up the Andes mountains) before returning to Lenoir.
An avid and enthusiastic DIY-er, no home project was too small or challenging; from building walls and bookcases, refinishing stairs, fixing plumbing issues, installing bathtubs, to his more adventurous stints with ropes and roof repair alongside his father and his solo projects involving chainsaws and blowtorches with an 8' ladder tossed in every now and then. He left his fingerprint on every home he lived in.
He was a man of great wisdom, poise, a terrific sense of humor, a lover of Frank Sinatra and Carly Simon, a fan of Audrey Hepburn and "North by Northwest", and someone who will be immensely missed beyond words.
In lieu of flowers the family suggests donations to the US Department of Veterans Affairs https://www.cdceportal.va.gov/donate_online.
Interment will take place at Washington Crossing National Cemetery on Wednesday, July 6, 2022 at 9 am.