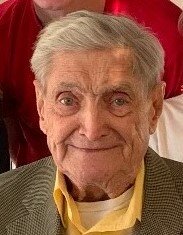 Obituary of John Alexander Tweedie
Please share a memory of John to include in a keepsake book for family and friends.
John "Jack" Alexander Tweedie of Yardley and more recently Langhorne, died peacefully on Saturday July 30, 2022.
Jack was the son of the late Hillard and Alice Tweedie. He grew up in Jersey City, New Jersey where he and his brothers loved to cheer for the Yankees. They would often travel into New York to see them in person. After serving proudly in the US Air Force, he graduated from Fairleigh Dickenson University with a degree in Civil Engineering. He went on to work for Curtis Publishing, and then U.S. Steel. In 1962 married Connie (nee Yalch), his wife of 58 years. They moved to Yardley, Pennsylvania and raised four children. During the summers, he would bring his wife and children to Long Beach Island to vacation with his brothers, sister, and their families where many great memories were made. In 1963 he began working for DCASPRO, Defense Contract Administration Services Plant Representative's Office, where he earned the Meritorious Civilian Service Award, the highest award given by DCAS Commanders. Another career highlight was his work on the Aegis Radar System at RCA. He retired in 1991. He spent many years of his retirement traveling with his wife and seeing some of the highlights of the United States and spending some of the winter in Florida.
If you were looking for Jack, you could usually find him in the garden. If he was not working in his yard; he was talking lawn and plant care to anyone who would listen. He took pride in his yard and listened with great interest to his children's botanical endeavors.
Jack was proceeded in death by his wife Connie, brothers Frank (Mary), and Richard (Dot). He was the loving father to Jackie French (Bill), Patti Harman (Eric), Scott (Catherine), and Kim Slaman (Bob). He will be greatly missed by his grandchildren Lauren, Chris, Kristen, Tim, Andrew, Matthew, Ethan, Will, Jack, and Ellie. He recently met his great-granddaughter Fallon and was looking forward to the newest great-grandchild due this Fall. He is also survived by his sister Grace Struzynski (Ray). The loss of Jack will be felt deeply by nieces, nephews, and the many friends he met along the way. His easy smile and bight blue eyes always drew people to him.
His Funeral Mass will be celebrated at 11am on Tuesday August 9, 2022 at St. Ignatius Church, 999 Reading Avenue, Yardley, PA, where friends may call from 10am. Interment will be private at the Washington Crossing National Cemetery.
In lieu of flowers, memorial contributions may be made to St. Ignatius Church.