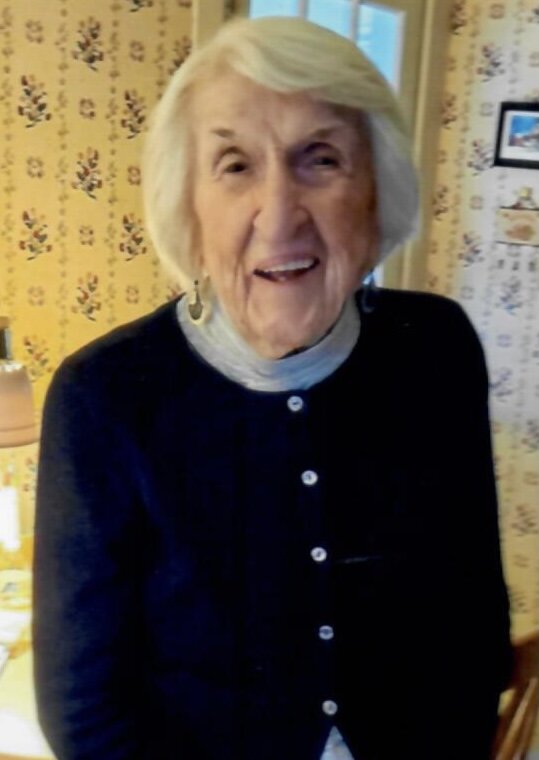 Obituary of Claire Dansbury
Please share a memory of Claire to include in a keepsake book for family and friends.
YARDLEY, PA -- Claire Dansbury, 95, died Friday, September 16, 2022, at home surrounded by family. A lifelong resident of Yardley, she was a loving wife, mother and Grandmother a.k.a. Nanny. She devoted her life to her very close-knit family. Claire graduated from Hamilton High School in Hamilton, NJ. and then graduated from Saint Francis School of Nursing in Trenton, NJ with an RN degree. She held many positions in nursing with her last position at The College of New Jersey (TCNJ) in its infirmary. After retiring from there, she worked part time as school nurse at Villa Victoria Academy.
Claire is remembered by family and friends for being caring, loving, funny, and very strong-willed. She was a life-long beach bum and never missed a summer vacation to Long Beach Island with her children, grandchildren and her sister Carole and her husband Craig Tallman and theirfamily. She also made sure to escape the northeast winters and go to Florida with her husband Abbie. She was a member of Yardley Country Club for almost 50 years where she enjoyed playing golf with her friends and family. Claire was a member of the Lower Makefield seniors where she chatted and played bridge. Claire loved the many dogs in her family and was known to the dogs tobe the weak link for giving table food.
Daughter of the late Margaret Abbott and George Edward Fitzpatrick, she was preceded in death by her husband of over 50 years, Abner M. Dansbury Jr., and a daughter, Margaret L. Howe. She is survived by her two daughters, Patricia Dansbury and Mary Claire Dansbury, of Yardley, PA; a son, Paul Dansbury of Langhorne, PA; a son anddaughter-in-law, Marty Dansbury and Lynn Apple of Newtown, PA; a daughter and son-in-law, Sue and Bob Malone of Yardley, PA; a sister-in-law, Joan Dansbury of Yardley, PA; five grandchildren Rob and his wife Erin, JeffMalone, Kaity Malone, Willow Dansbury, and Kylie Howe; many nieces, nephews and great-nieces and great-nephews. One very special niece, Nancy Waters, was a wonderful caregiver in the last years of her life. In addition, she is survived by two dear friends from nursing school Claire Rich and Dina DiPietro.

A viewing will be held Thursday, September 22, 2022 from 9:00 AM to 10:30 AM at Saint John the Evangelist Churchin Lower Makefield on Big Oak Road.
Her funeral Mass will follow directly after the viewing at 11:00. The burial will follow at St. Mary's Cemetery, 1200 Cedar Lane, Hamilton Township, NJ 08610. After the burial, friends and family will gather at Yardley Country Club for a luncheon.

Memorial contributions in lieu of flowers may be made to St. Jude Children's Hospital, 501 St. Jude Place, Memphis, TN 38105 www.stjude.org/tribute or Philly Friends of V, www.phillyfriendsofv.org.